My Father, the Artist, the Thinker, the Mystic
---
---
'Rewind' is a feature series on the Art Dubai blog, looking at the life and personality of a Modern artist from the Middle East, Africa or South Asia, who is connected to the fair through one of the Art Dubai Modern participating galleries. The stories are told through the eyes of a close relative.
---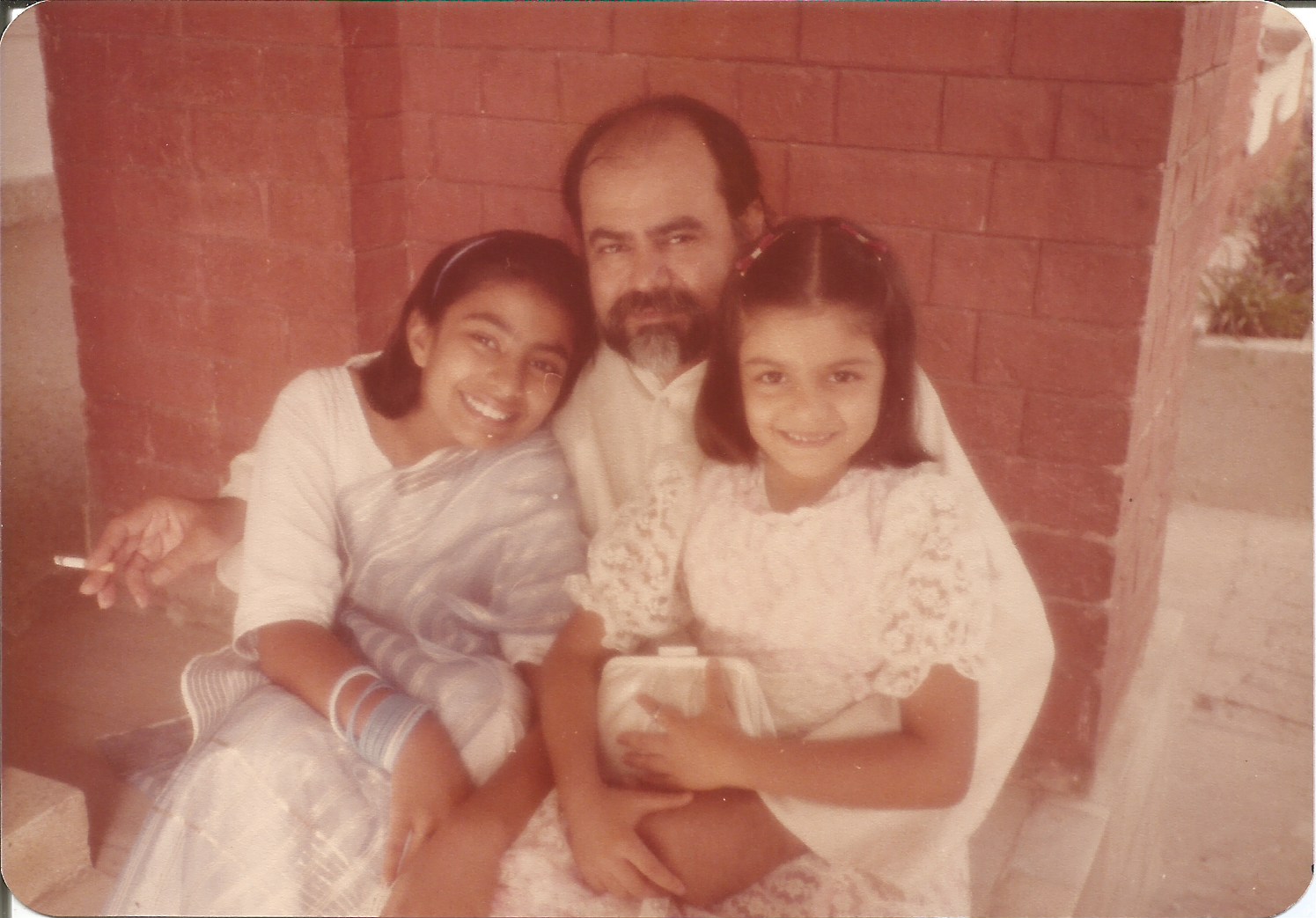 Jahanara, Zahoor and Nurjahan on Eid c. 1985.
---
My father was definitely one of the funniest people I have ever known. And yet, paradoxically he was also quite serious and sometimes hinted at a subtle melancholy. He was a man of very few words, understated and evocative to the highest degree, equally devoted to his work and teaching, his family, and he also had a joyful appetite for living life. He was committed to a dialogue with his work, which included painting, sculpture, printmaking and design commissions. The most charming thing about his personality was that he had no airs about him, and was extremely modest and generous to a fault. He was very well-read, particularly in Urdu, and I think his language and interest in literature and poetry was foundational to his sensibilities and approach to painting. I see him as a cerebral painter, driven by ideas that perhaps stem from a base in literature and reading; his use of Urdu always showed a scholarly depth as he would pick his words and phrases very carefully.
---
He was equally generous with students, colleagues and friends and highly respected at the National College of Arts in Lahore, where he taught for over 30 years. From a young age, I can remember students gathered around him, coming to our home after classes and lively discussions on art going on for hours, or working as assistants in the studio or on the larger sculpture commissions.
---
As a kid and teenager, I would often come into his studio (which was adjoined to our home) and watch him work, sometimes borrowing materials for my own drawings. I also have fond memories of him preparing his canvases and he would sometimes cautiously ask for my help. He would show me how he applied paint, how he did it in several thin layers. He would ask my opinion about his work in a very open-ended, gentle way. He was never presumptuous or intimidating – I had a very playful and endearing relationship with him.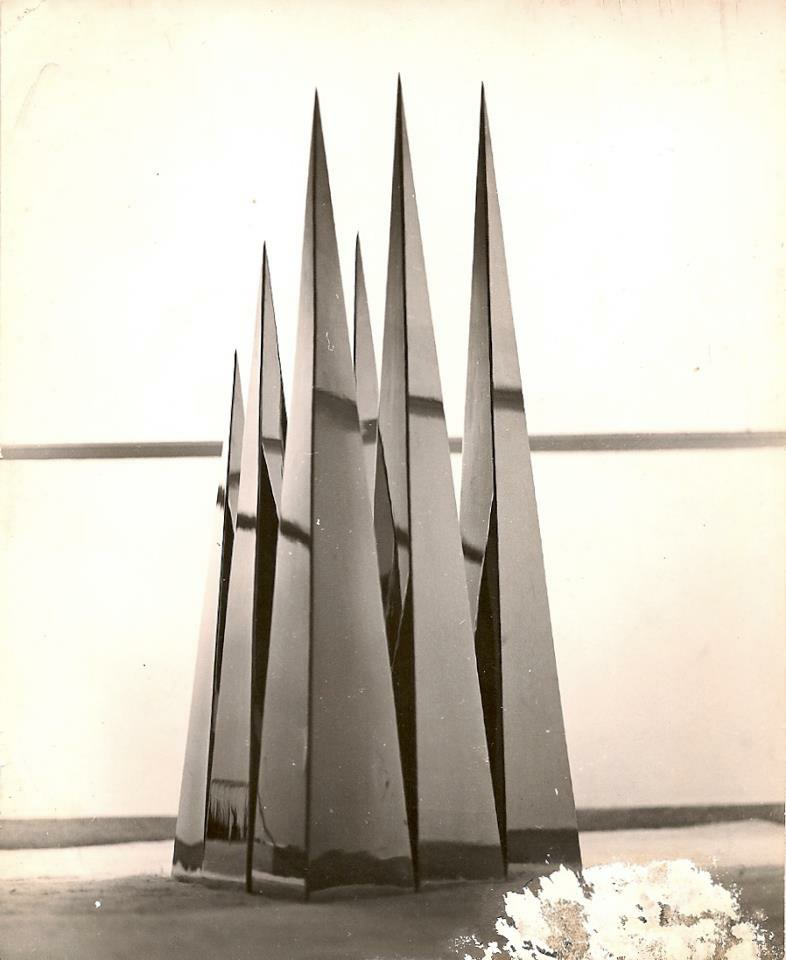 Untitled, six steel pyramids, c.1975. 
---
---
The creative process was not limited to his studio, and sometimes he would migrate with his canvases and paint in the veranda next to the living room as he found the light there better to work with. A truly independent spirit, he and my mother, Sheherezade Alam shared a bohemian vision of living life and making art that was carefree and adventurous, as evidenced by our moves to different countries and new experiences, all of which are visible in his work.
---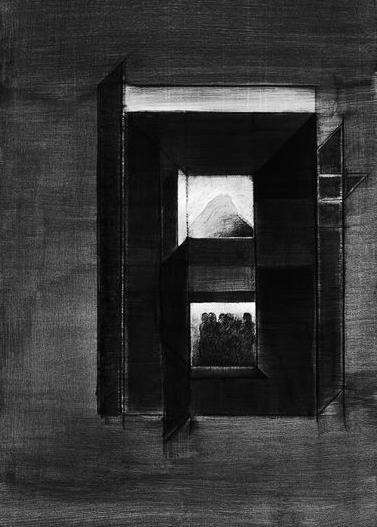 Untitled, acrylic on canvas, 1991.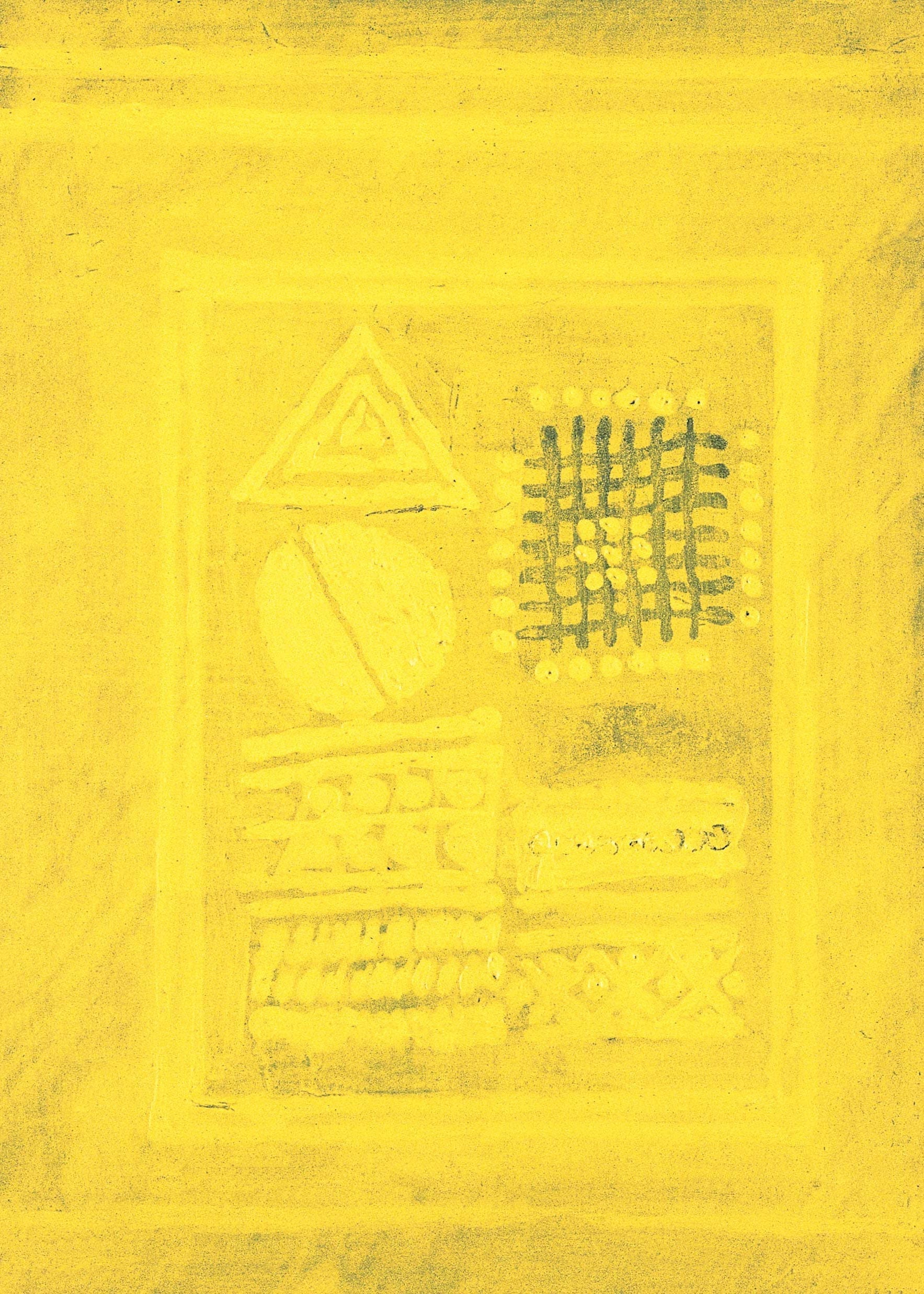 Untitled, acrylic on canvas, 1999. 
Looking back at his life and his contributions, he sits somewhere between late Modern and Contemporary in the history of Pakistani art. It's hard to define or pin down what his body of work is about as his influences are rich and varied, and yet his experimentation and play are consistent. Someone called him 'the architect' of the Contemporary Miniature movement. Some claim his work is about identity and tradition, or exploring a highly personalised language.
He once said that painting for him "is an act of self-discovery"
and that "the act of painting for him is a very significant happening".
---
As I go through his archives, I can define and trace more uncommon influences and see a big interest in folk arts, crafts and indigenous architecture and the rural landscapes of Pakistan. He did not want to define himself by one thing or even a movement related to art history, however much he took from traditional sources and Islamic formalism. He constantly strove to be contemporary (to his time) and to discover and try new things. I think he broke new ground.
---
I am still learning many things from managing his estate. One thing I keep at the back of my mind as I operate in the art world of today that is driven by celebrity and money, which might have bored him – is that he was a mystic at heart! I think I am still figuring out the different facets of his work but perhaps the most exciting thing for me is its open-endedness and its mysterious and contemplative presence.
---
Sometimes, I look at his work and can see he was a very cerebral and dedicated person but also, totally charming, filled with wonder and humour. There is a presence, as I am engaged with the archive, his writings, photographs, and other documents. He is everywhere in my life.
---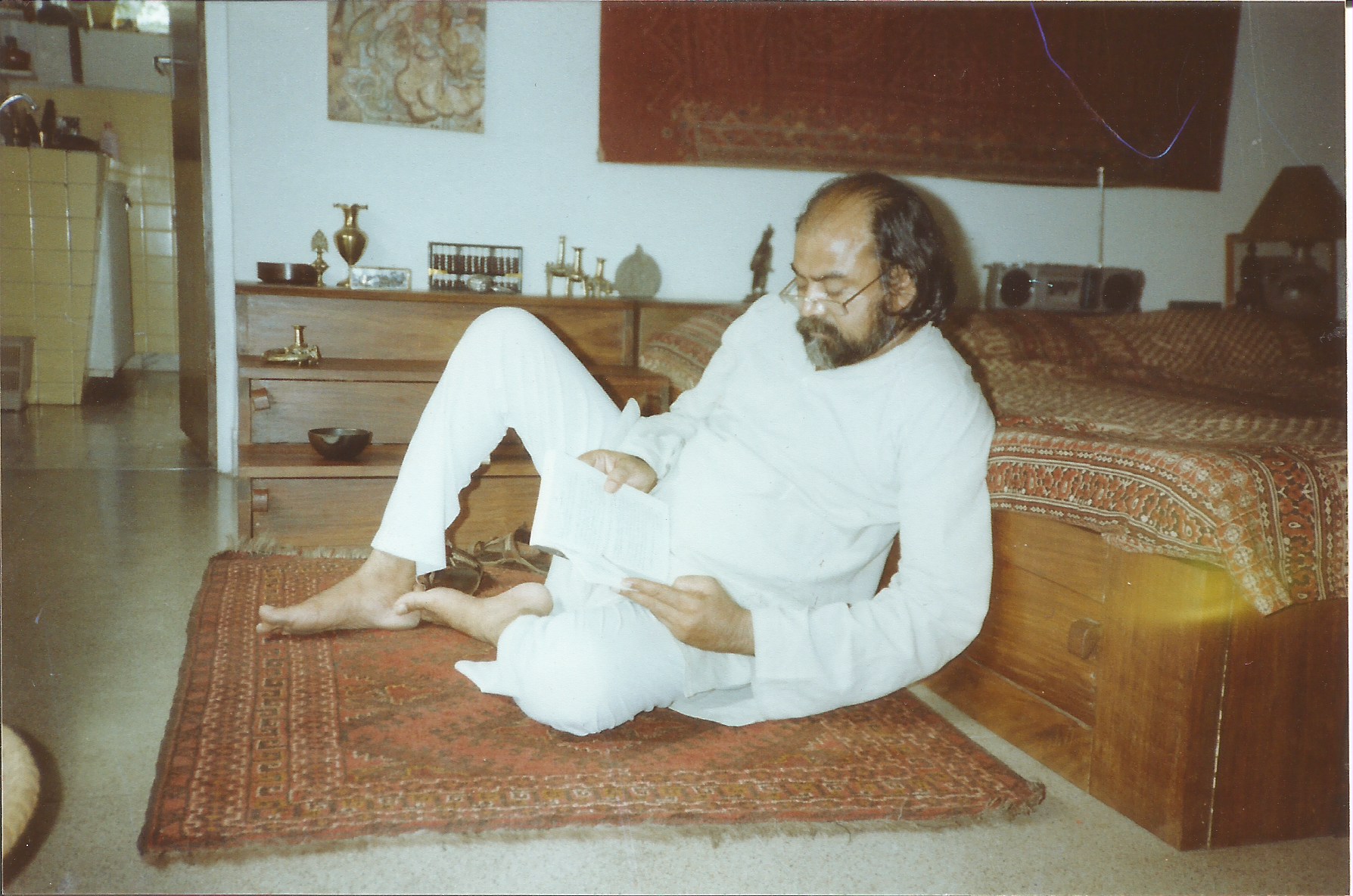 Zahoor ul Akhlaq in his home c.1984. 
---
All images courtesy of Nurjahan Akhlaq.
---
---
---
Digital Art at Art Dubai 2022
South Asian Art at Art Dubai 2022
Art Dubai Modern: The Soul of Progress
Art Dubai 2022 Contemporary Highlights: Craft and Geometry
African Art at Art Dubai 2022
Art Dubai Digital: 5 Works Not to Miss
Nancy Adajania on Bawwaba