---
---
Meet The Campus Art Dubai 7.0 Participants
---
Entitled Mirror Mirror On The Wall: Contemporary Art And The City, the seventh edition of Campus Art Dubai focuses on introspection, reflection and self-critique. Through a series of seminars, a group of pre-selected students will examine and interrogate the role of artists and artist communities within the city and what responsibilities the city should have towards them, as well as the role played by contemporary art in the making of Dubai as "Dubai". The programme will explore these and other topics, ranging from the history of urban design, performance art in and of landscape, gentrification, and artist community building. Art Dubai spoke to the four artists taking part in this edition about their work and expectations towards the programme.
---
---
---
Jumairy
Please explain your fascination with performative and interactive elements that create artworks that are more experiential than objects.
As an Emirati, you're always paraded around and "sold" as a collectable… there's a certain oriental / khaleeji sexiness that is definitely at play when you exist in the international and even local context, but that's exactly why I find peace in creating more performative, experiential, haptic work. I guess it's an anti-capitalist move.
Often, you, as the artist, occupy a silent part of your own work, meaning that your presence and position of autonomy disappears. Does this reflect an intrinsic part of your interest?
Definitely. I'm actually a very shy person, I guess I'm always faking the role of an extrovert when I clearly am introverted.
It's so obviously a big part of my art practice, but I wouldn't say it's silent, it's more of a whisper, like a secret code only given to a few, who work hard to get it. I think this secrecy bases itself in narcissism more than anything which contradicts the whole idea of it being hidden or silent.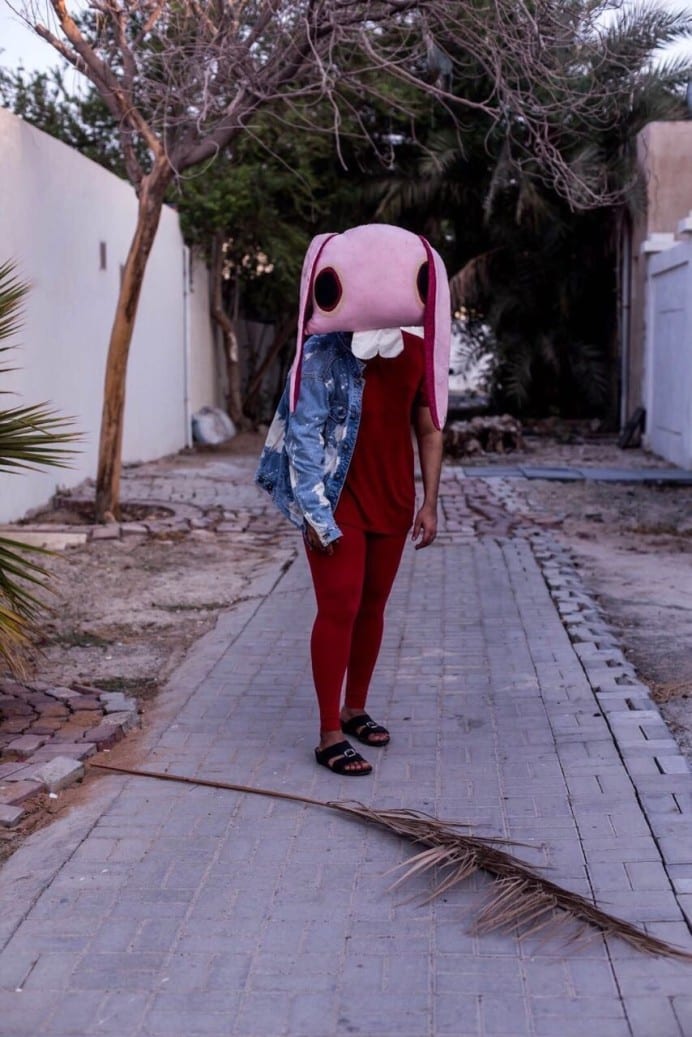 ---
For the Campus Art Dubai residency, which includes notions of self-critique and reflection as well as community, how do you see your practice developing?
Part of the reason I wanted to apply for this edition of Campus Art Dubai is the format. I think it's a very interesting structure that I would love to explore and see myself thriving in. That being said, I don't know if I can predict how my work is going to develop, but I'm really excited to see where it's going in the next couple of months.
---
---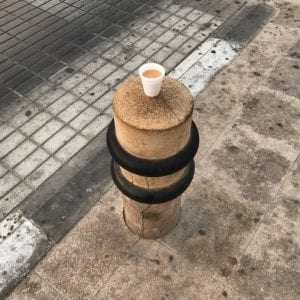 Mohamed Khalid, Self-Portrait
Mohamed Khalid
Do you consider that being born and raised in Dubai affects the way you work as an artist?
On outward-facing material, I try to mention "born and raised in Dubai" at all times, as living here and seeing works of other artists who are born/raised here is what made me feel like being an artist was an accessible career path. That moment resonated with me and I hope I can recreate the same experience for others interested in pursuing the arts.
---
As a multidisciplinary artist, do you feel you change medium and content depending on the story you wish to create?
Medium is just an outcome more than the process for me. I guess you could call it "Dubai future vision style" – you know what the end product is going to look like and the rest will happen somehow.
Campus Art Dubai's subtitle for 2018 is Mirror Mirror On The Wall, what do you hope to reflect in your mirror after completing this residency?
Mayawa. This is an Iranian cuisine tangy sauce made of fermented fish. Mahyawa is made from salted Anchovies and ingredients include: fennel seeds, cumin seeds, coriander seeds and mustard seeds. Basically I'm slowly fermenting to make make mahyawa (new work).
---
---
Augustine Paredes
With an interest in belonging and transience, what role does the city of Dubai have in your art practice?
Dubai is a city filled with people from different countries and races, all at once searching for meaning in various aspects in our lives. For some, the city is their Point A, for others it's their Point B, and there are those who are still in the middle. I try to find inspiration from everyone around me and what they make of a city like Dubai. I also dig deep and introspect what I want to be and do with this city, and the questions that come out of it serve as my starting point in creating art.
---
---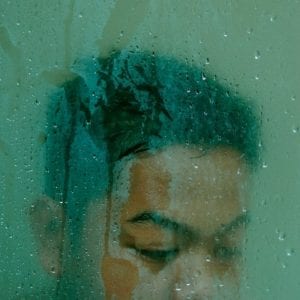 Augustine Paredes, Self-Portrait
How do you manage to achieve lyricism and poetry through the medium of photography?
You know when they say a photograph speaks a thousand words, I try to gather everything I've read, known, and understood and place them in spaces of my photograph and take them. I also sometimes sacrifice the technicalities of photography in order to express what I feel. As photographers we were always told to keep our eyes open, but other times we need to close them and listen to what's inside of us — that's when stories come alive and they come true.
---
---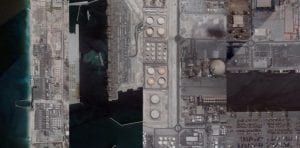 Dima Srouji, Port Jebel Ali, undated
Dima Srouji
How has your Palestinian heritage informed your study and practice of art and architecture?
There's a frustration in the inability to alter reality, generation after generation in Palestine.
---
Can we then embrace an altered reality as a form of escape from our limitations? My work explores warped space and time to create visions of an alternative fiction, possibly more real than reality itself. The alternative fictions highlight narratives of objects as an escapist method to reach the exteriority of being occupied. Can we take advantage of the rise of embracing complexities where the manipulation of truth can subvert physical limitations and abuses? My practice resists spatial and conceptual limitations and embraces shifting perspectives as a result of our constant inability to alter our own realities as Palestinians.
---
Please explain your interest in the shifting narratives of history and how they oppose the solidity of an architectural structure?
The question of shifting perspective becomes a tool used to escape the limitations of human-centric systems. But there is a thin line between the abuses of reality that result in the occupation and control of societies, and the complete groundlessness, freefall, that results in escaping that human reality. Architecture embraces both realities, one that is focused on the relationship of the subject to the object, and one that explores the object to object relationship. Both architectures are interested in the interstitial space between the dualities. How can we live in that fluid space where lines are not thin but they are rather deep networks? That's how architecture's solidity is opposed, but what does that look like? These are the questions I'm trying to answer.
In what ways are you hoping to extend your practice at Campus Art Dubai?
I'm hoping to look closely at the question of mapping as a tool for representation to explore further the traces of objects moving in space. The practice of cartography has been used as a weapon to occupy and colonize in the past, but what if we, the Global South, use this same tool to deconstruct such systems by unraveling cartographic methods? I'd like to study the tool of counter-mapping by shifting perspective. It's crucial for me to focus on the specific context of the UAE, to map the functions and dysfunctions of object movement in space specifically to this region. The UAE is a nation of fulfillment and has historically been a critical node on trade routes where objects are constantly in flux.
---
---
Partnerships and Programme Overview
Julius Baer extends lead partnership and will premiere new artwork by Refik Anadol at Art Dubai
The Dubai Collection new artworks and patrons
Exclusive programming & events for Art Dubai 2023
Extension trips to Kochi and Tashkent following Art Dubai 2023
Art Dubai 2023 Gallery Line-up Announced
Introducing Art Dubai 2023 Curators
Digital Art at Art Dubai 2022
South Asian Art at Art Dubai 2022
Art Dubai Modern: The Soul of Progress