---
---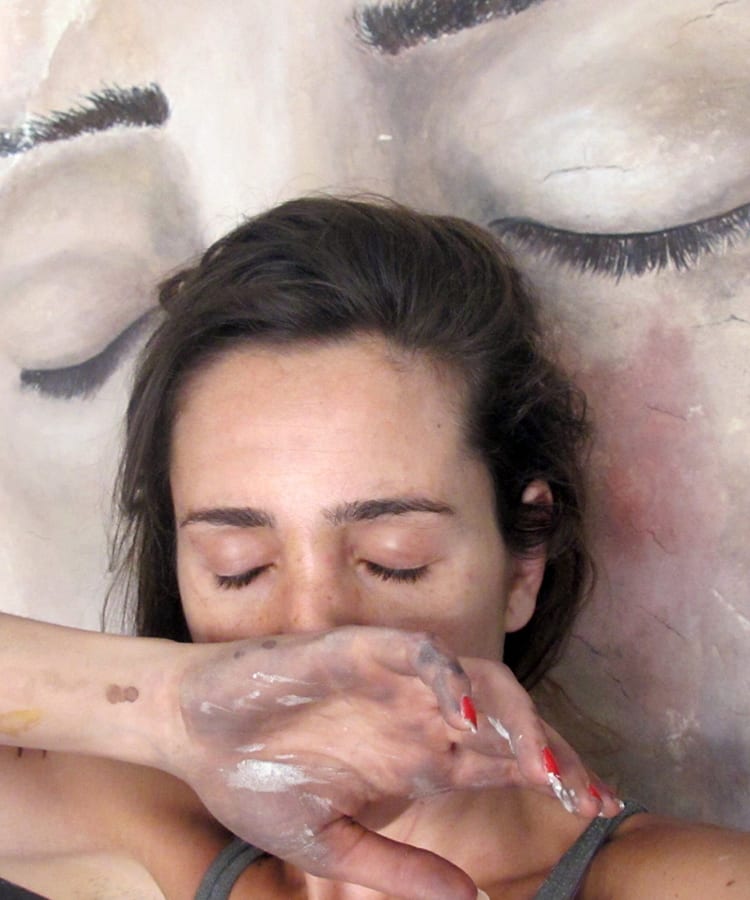 Chafa Ghaddar, Executing 'Rupture'.
---
For its sixth edition, Art Dubai's A.i.R (Artists in Residence) programme pioneers in punctuating the city with public art in the name of making a lasting imprint on Dubai. Held in partnership with Tashkeel and the Dubai Culture and Arts Authority, A.i.R features commissions by Zeinab Alhashemi (UAE), Shaikha Al Mazrou (UAE), and Chafa Ghaddar (Lebanon) and is curated by Beirut-based Amanda Abi Khalil.
Art Dubai chats with Ghaddar on her proposal for the Al Safa Library, which sees her intervene with the building's façade through at least 3000 tiles, each individually hand-painted with imagery of the structure's old self. "Most of my work is focused on questioning how time is manifested on surfaces and buildings, or anything really," she says. "I'm not just interested in the past in a nostalgic sense, I'm interested in how it is linked to the now and what comes after.
---
---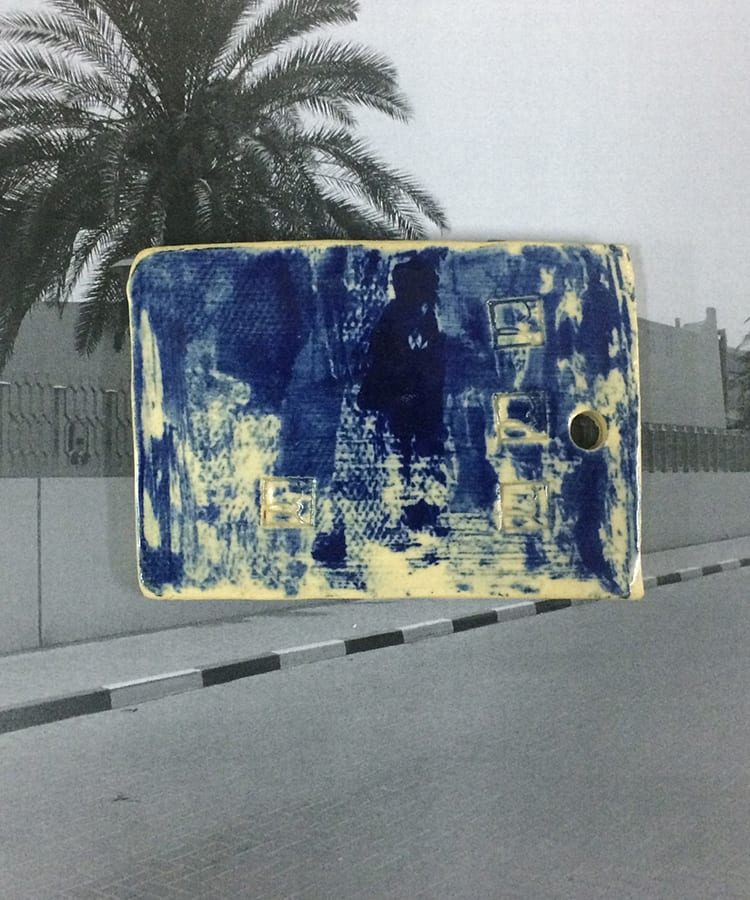 I am still learning, reference image. Chafa Ghaddar, 2017.
---
What inspired your proposal?
CG: I visited Portugal and discovered the azulejos (tin-glazed ceramic tiles) and did a lot of research tracing the history of tiles to the Persian Empire, Chinese dynasties and the Silk Road, through to their Moorish arrival, Andalusia, Islamic influence and so on and so forth. There's something that echoes the history of tiles when considering a mural in Dubai and talking about growth and surfaces in a state of change.
It's almost as though these tiles reflect the many nationalities and influences of the city. Also, in doing this for an institution like a library, you mirror the contents with the exterior.
CG: Yes and there's also something else – it's not only an interference, nor is it only bringing this craft or technique and putting it on the wall, but I'm also repainting details and elements from the visuals of the old library through at least 3000 tiles.
Where is all this rooted in?
 CG: Growing up in the South of Lebanon, there were fields all around us. I was very involved with the earth, always had my hands in the soil and taught my siblings and cousins how to plant trees; still to this day. Another 'root' is my family home, which my father built and which was wounded in the war in the 1980s. Soldiers came in and lived in it and we had to leave temporarily. When we returned, we saw that there had been blazes in the house; it had been hit, seriously damaged and wounded.
'Wounded' is more of a term used to describe a person. It's almost as though you personify this house. 
CG: Yes, but 'wound' is such an organic process that I can't talk about in purely scientific terms. Wounds have a lot to do with time and they only happen with time, not just on the spot. There's a lot of emotion because I refer to the house as a living organism; this is how I see spaces that I am interested in. With this house in particular, it taught me the relationship I have with surfaces, a deep relationship I have with home.
And how the surfaces change over time. 
CG: Chemistry, phenomena and processes are very important to me. I realised I was more interested in techniques that were engaged with processes. It may be nature and soil, but this home in the South of Lebanon was a group of walls and surfaces that went through a series of wounds and degradation and never really healed. This is related to nostalgia, with which I have a very weird relationship.
---
---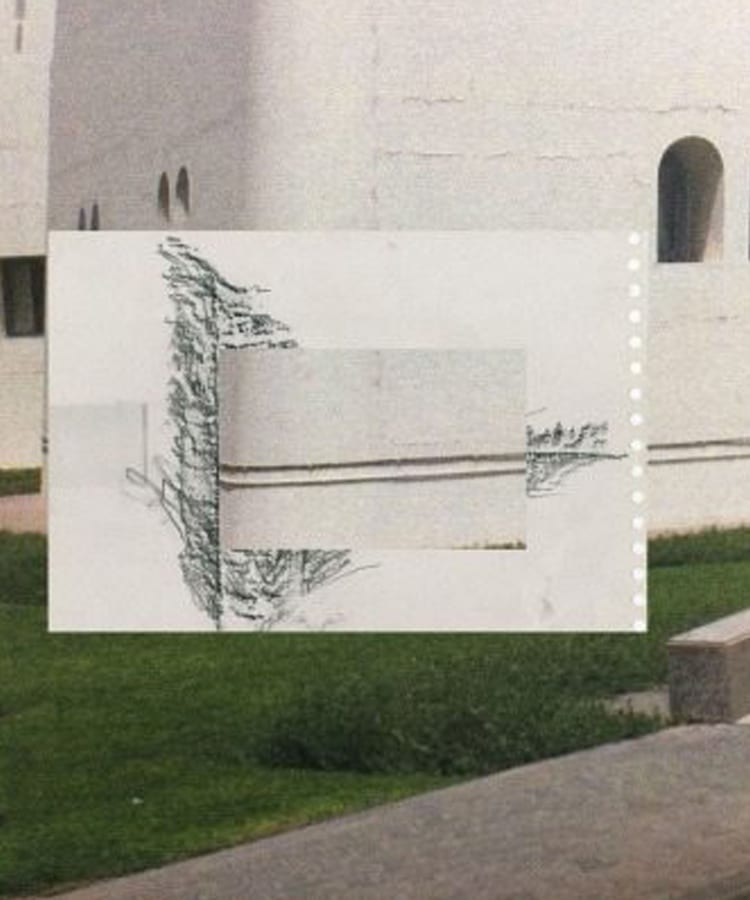 Chafa Ghaddar, Work in progress. Mixed media, variable dimensions.
---
Many are nostalgic about the Al Safa Library. Were you familiar with the building?
CG: Not at all and this is something that I am trying to be very aware of because I know that many are nostalgic about the old building. I need to take that into consideration and think about who is seeing this place and who is visiting it. Public art should live in a space and interact with those who visit it now and those who will visit it later.
Perhaps by proposing your project, you are making Al Safa Library an artwork.
CG: I would agree with that, not because there would be value to the fact that there are painted tiles on the surfaces. Graffiti or murals don't turn a building into an artwork.
Absolutely, you need the building to finish the artwork.
CG: Yes that's true. The fact that I am visualising details of the (old) building that are not there anymore means I am creating a dialogue between the surfaces and it's a very visible one and it's very present; it's not timid or shy. I am trying to deal with the Al Safa Library as a living organism – it is alive, it is talking to itself through its surfaces, a new skin from an old skin. This regeneration would turn it into an artwork.
You value the past.
CG: I do. The past and the future are so linked. I value time as well, especially as a phenomenon, as something very contemporary even if it's related to the past.
You've lived in Dubai a short time. How does it feel to interrogate part of the city's cultural fabric, and in such a pioneering initiative like A.i.R?
CG: There's a lot of responsibility and I am very anxious about my work. I don't take things for granted. Of course I feel very happy and feel that this is a privilege, a great opportunity, a great start in the programme's first year. We visited all these sites, but when I arrived at this one – a construction site – I felt like I could really belong and develop a work in this state of in-between. I felt that it made sense. I've been in a state of in-between for quite some time and I function well in this bipolarity. Do we have to be living here for a long time and having this nostalgia to be a caretaker? It's a challenge and I am challenging myself.
---
---
Chafa Ghaddar (1986) was born in Lebanon and currently lives in Dubai. She graduated in Fine Arts from the Lebanese Academy of Fine Arts (ALBA) in Beirut and later attended an intensive course in fresco and traditional painting in Florence, Italy. While developing a career in wall painting and surface finishing, she explores the use of fresco in contemporary practices and works equally with murals, painting, drawing, photography and mixed media. She was awarded the Boghossian Art Prize for painting in 2014.
The sixth edition of A.i.R Dubai will develop beyond being a residency programme. For the first time, the commissions will become permanent public works, thus making a lasting imprint on the city of Dubai. Held in partnership with Tashkeel and the Dubai Culture and Arts Authority, A.i.R Dubai 2017 features commissions by Zeinab Alhashemi, Shaikha Al Mazrou, and Chafa Ghaddar is curated by Amanda Abi Khalil.
For more information on the sixth edition of A.i.R Dubai and the participating artists visit: https://www.artdubai.ae/a-i-r-dubai-2017/
 For press enquiries: Nicole@artdubai.ae
---
---
---
---
Introducing the curators for Art Dubai 2024
Julius Baer's curator Barbara Staubli on how to build a corporate collection
Guerlain presents an extraordinary journey through art and fragrance
Boghossian's high jewellery showcase
Inside the Chaupal: commissioned performance at Art Dubai
Fresh Painting in Art Dubai Contemporary
Ruinart presents Matthieu Gafsou exhibition at Art Dubai
"The Perfect Storm": How Dubai's cultural and tech strategies are combining to create a global hub in the digital age
"Biography of Passage" – Exhibition by 421
Art Dubai Modern Highlights