---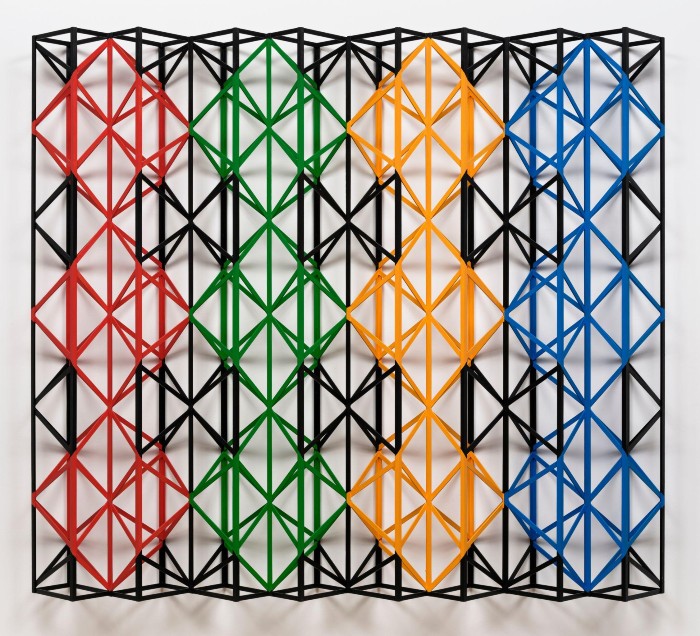 Rasheed Araeen (Pakisatan, 1935), Untitled 2022, Acrylic on Wood. Courtesy Aikon gallery
---
The Modern section of Art Dubai 2023 presents 10 historical artists, nine of whom hail from the Middle East and South Asia. This particular focus pays homage to the dynamic of Dubai – a place of mixed cultures where more than 80% of residents come from these two major geographical and cultural areas.
Adding to this coherent group is the presence of the Ghanaian-born photographer James Barnor (b.1929). Art Dubai visitors will have the chance to get to know the work of this extraordinary witness of the social and political changes of his time, from Ghana's independence, to being an adept observer of the African diaspora, to recording the life of London's African community in the 1960s.
The Modern section brings together artworks from the early 1960s to the 1990s, with the addition of more recent work made in the last 20 years, that reveal a great variety of distinctive artistic languages by a valuable selection of artists. The artists on show all represent a characteristic effervescence and a desire to redefine the artistic canon. From formal and narrative connections to emancipation and cultural specificities, the Modern section will convey an intriguing set of artistic vocabularies.
Each of these artists has played a fundamental role in the art historical canon. We are particularly happy to be able to pay tribute to Mona Saudi (1945-2022), an influential sculptor from Jordan who died last year and whose graphic works – that particularly caught our attention – will be presented.
---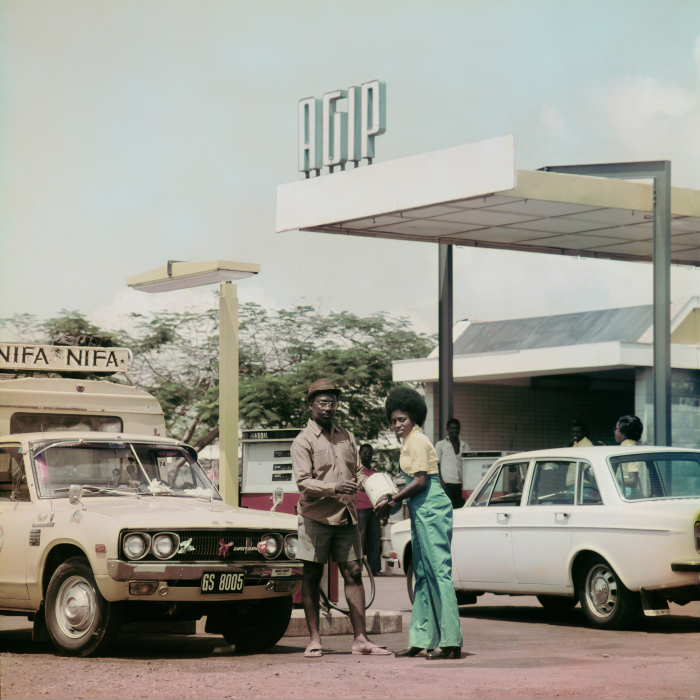 James Barnor NIFA NIFA 1974 Photography 70 x 70 cm Courtesy: The artist and October Gallery, London
---
Monir Shahroudy Farmanfarmaian (1922-2019), a famous Iranian artist, belongs to an earlier generation and made work between the United States and Tehran. She developed a successful career with a specific vocabulary that embraced the cosmic patterning of traditional geometry with modern abstraction.
Helen El-Khal (1923-2009) grew up in a Lebanese family in Pennsylvania. In 1946, she moved back to Beirut and studied painting. In 1963, she co-founded Gallery One with her husband, the poet Yusuf El Khal. It was the first gallery of its kind not only in Lebanon but in the whole of the eastern Arab region. Later, she became a teacher at the American University of Beirut and was also a recognised art critic.
It was between Rome and Beirut that Hussein Madi (born 1938) found his career as an artist. Born in Lebanon, Madi's work is characterised by an extremely personal fusion of western and Islamic influences.
Samir Salameh (1934-2018) was a Palestinian painter and a refugee in Syria at the time of the Nakba in 1948. Active in his hometown of Safad since the 1990s, Salameh pursued his art on the borderline between figuration and abstraction, reflecting his everyday reality, devoid of references to the great tragedies he dealt with during his life. 
---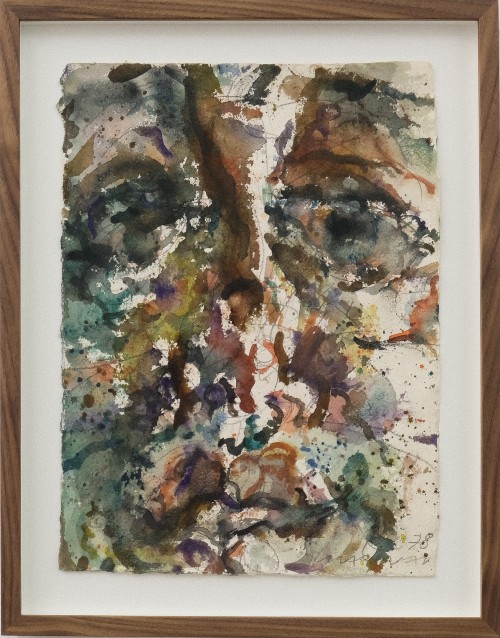 MARWAN Untitled 1978 Work on Paper 38 x 29 cm Courtesy: Courtesy of the artist estate and Sfeir-Semler Beirut/Hamburg
---
Marwan Kassab Bachi, known as Marwan (1934-2016), was born in Damascus but spent most of his life in Berlin. Considered as one of the masters of modern art in the Middle East, Marwan restricted himself to the simple and essential theme of the head. This motif has become the quintessential identifying trait of the artist's mesmerising oeuvre. By conceiving the head as a world or cosmos, a landscape of the soul and a great orb of the universe, in a myriad of reflections and visual smiles, Marwan meditated profoundly on the basic human condition.
On the flip side, Nazir Ismail (1948-2016) was active mainly in Damascus. The selection of his work on show will bring together unique works conveying the artist's continual exploration of human emotion, from loss to despair.
This year, we are also honoured to welcome seminal works by Rasheed Araeen back to Dubai. Born in Karachi in 1935 and based in London since 1964, Araeen's work has helped rewrite the canon of minimalist art. He has spoken of creating his own vocabulary in his abstract paintings and sculptures by working at the crossroads of minimalism and Islamic art.
Natvar Bahvsar, who was born in 1934 and raised in India, developed his visual language combining elements of colour field painting and abstract expressionism. Bahvsar arrived in the United States in 1962 to further his art education, so American artistic developments permeated his work from then on. Yet, the artist maintains a commitment to meticulous process and his Indian heritage, resulting in paintings that reveal the deep-rooted significance of colour in everyday life in India.
Before we began working on Art Dubai's Modern section, we asked ourselves what idea of modernity we wanted to express. After all, modernity is a complex concept that envelops an enormous variety of cultural phenomena. It was the push towards modernity during the 20th century that opened the door to new social, political and environmental developments, many of which have emerged as contemporary global issues and concerns in recent decades. It is with this awareness that we have approached the selection of artists for the Modern section of Art Dubai 2023.
Mouna Mekouar
Lorenzo Giusti
---
---
Introducing the curators for Art Dubai 2024
Julius Baer's curator Barbara Staubli on how to build a corporate collection
Guerlain presents an extraordinary journey through art and fragrance
Boghossian's high jewellery showcase
Inside the Chaupal: commissioned performance at Art Dubai
Fresh Painting in Art Dubai Contemporary