The Social Realism of El Gazzar, Bhattacharjee and Al Musa
---
By Rawaa Talass
---
Art Dubai Modern presents museum-quality works by masters from the Middle East, South Asia and Africa, whose works have been influential throughout the 20th century. The 2018 edition of the fair will feature 16 galleries from 14 countries with solo, two-artist and group exhibits. For this occasion, a series of insightful articles will examine diverse themes and key moments in history, explored by regional modernists through their dynamic trajectories.
Visit Art Dubai Modern from 21-24 March.
---
---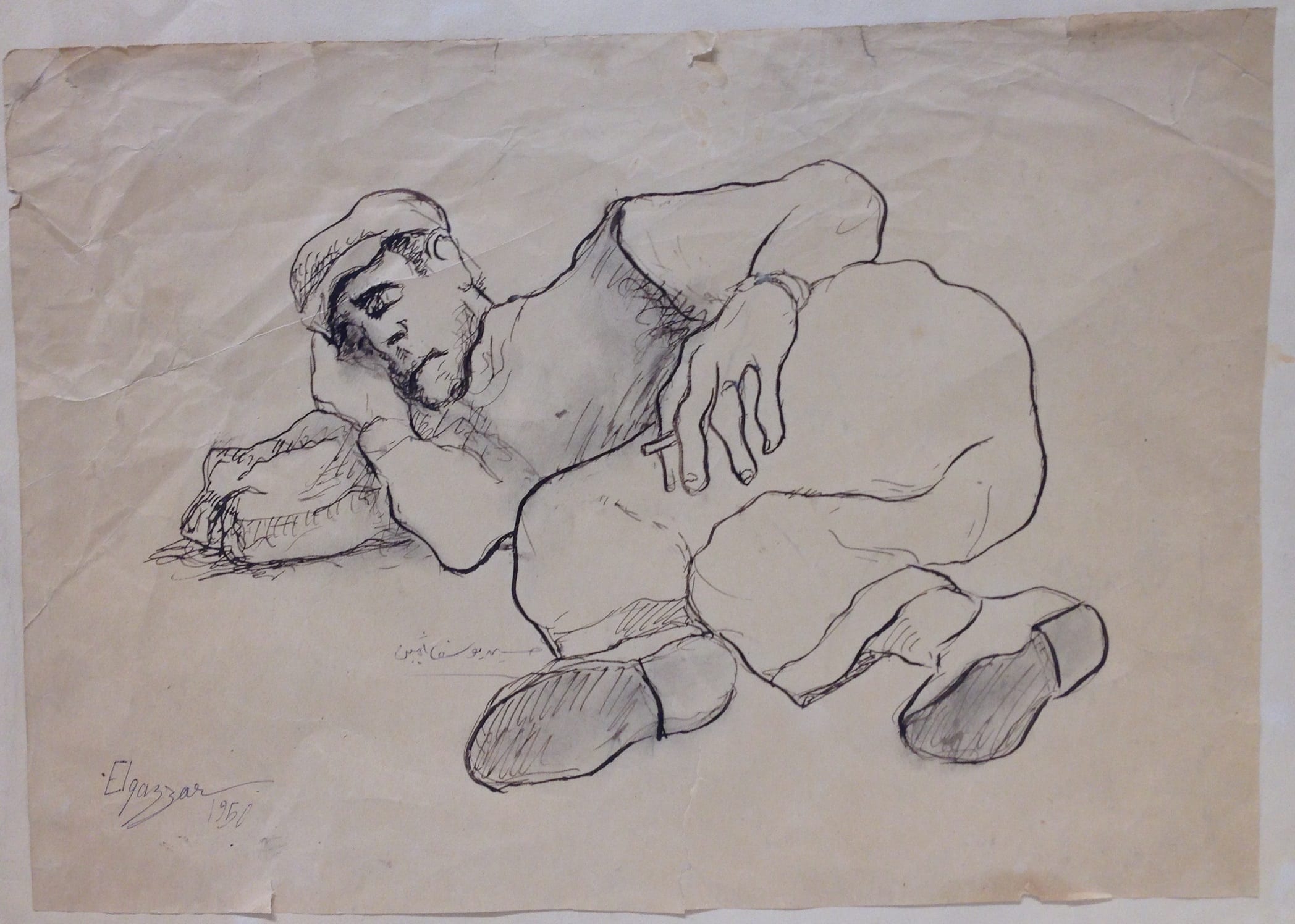 'Untitled', Abdel Hadi El Gazzar, 1950. Courtesy of Karim Francis Gallery
---
"The artist's job," declared the late American conceptual artist Robert Rauschenberg, "is to be a witness of his time in history." Nowhere has this notion been more evident than in the rapidly evolving eras of the 19th and 20th centuries, when artists, poets, and writers collectively documented socio-political conflict, industrial growth, and the ever-changing face of society. Such was also the case with modernists from the Arab and South Asian countries – regions that witnessed dramatic shifts in cultural and political life in the last century. It was through the multi-dimensional theme of social realism, defined as a form of 'realist painting that also carries a clearly discernible social or political comment,' that artists recorded their surroundings. In particular, three regional modernists, tackled this theme.
---
Abdel Hadi El Gazzar is considered one of Egypt's pioneering modernists, and was only 40 when he passed away in 1966. Yet, his masterly portraiture remains timeless, granting contemporary eyes a representation of mid-20th century Cairo. Trained in Cairo and Rome, El Gazzar famously created some of the most recognisable faces in Modern Arab art. Through his canvases and sketches, he portrayed workers, magicians, green-faced madmen, nude beggars, and political victims – shining a light on the working class and the poor in Cairo, which led to his arrest in the early 1950s. In essence, it was through his work that he acted as "the spokesperson of an entire nation voicing their sufferings," as suggested by Fatenn Mostafa Kanafani, founder of ArtTalks | Egypt. Depicting the outcast, one can easily sense El Gazzar's delicate treatment of portraying his subjects, exuding vulnerability, dignity, and harmlessness. It was through this underground, mystical world that El Gazzar was lost to abandon, finding his true artistic voice: "Let me live in the world of magic I admire. I do not want to know what things are. Knowledge renders life unbearable," he said [1] 
---
El Gazzar (right) with his mentor, artist Hussein Youssef Amin, c. late 1940s. Courtesy of Private Archive of Gallery ArtTalks.
---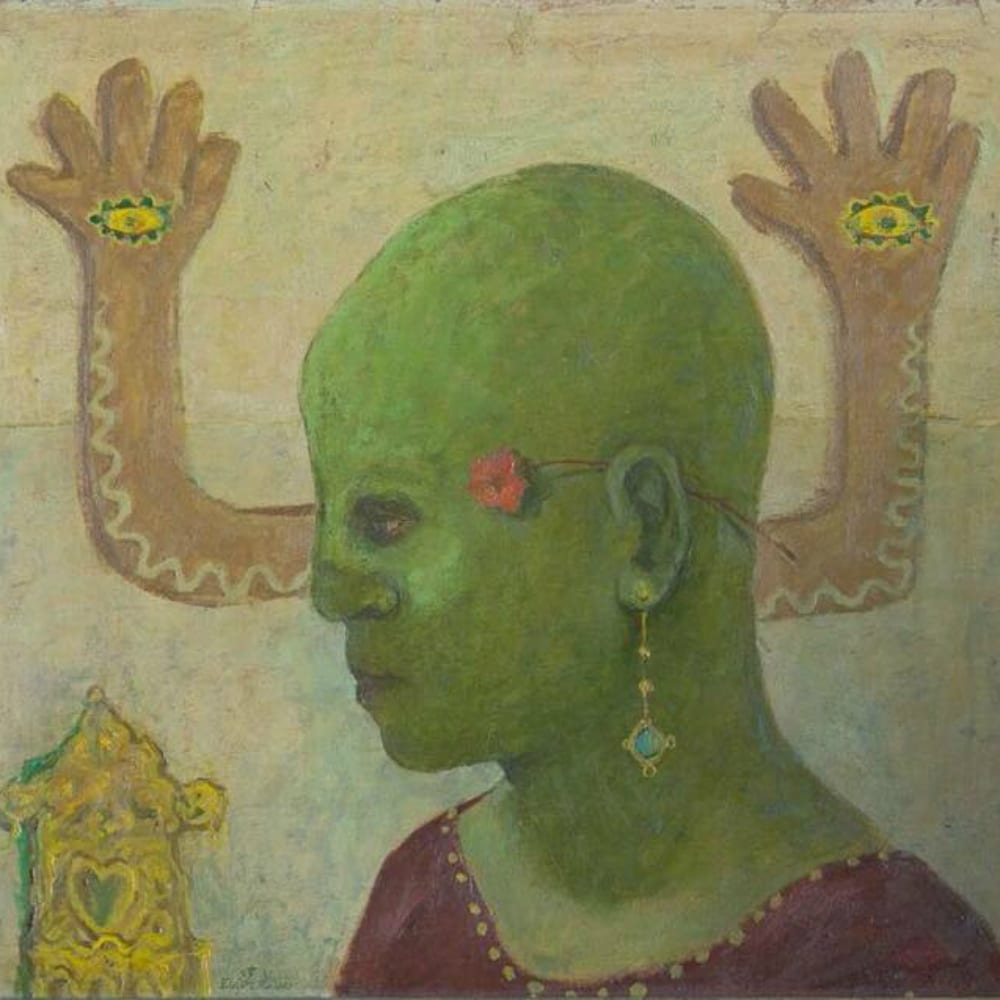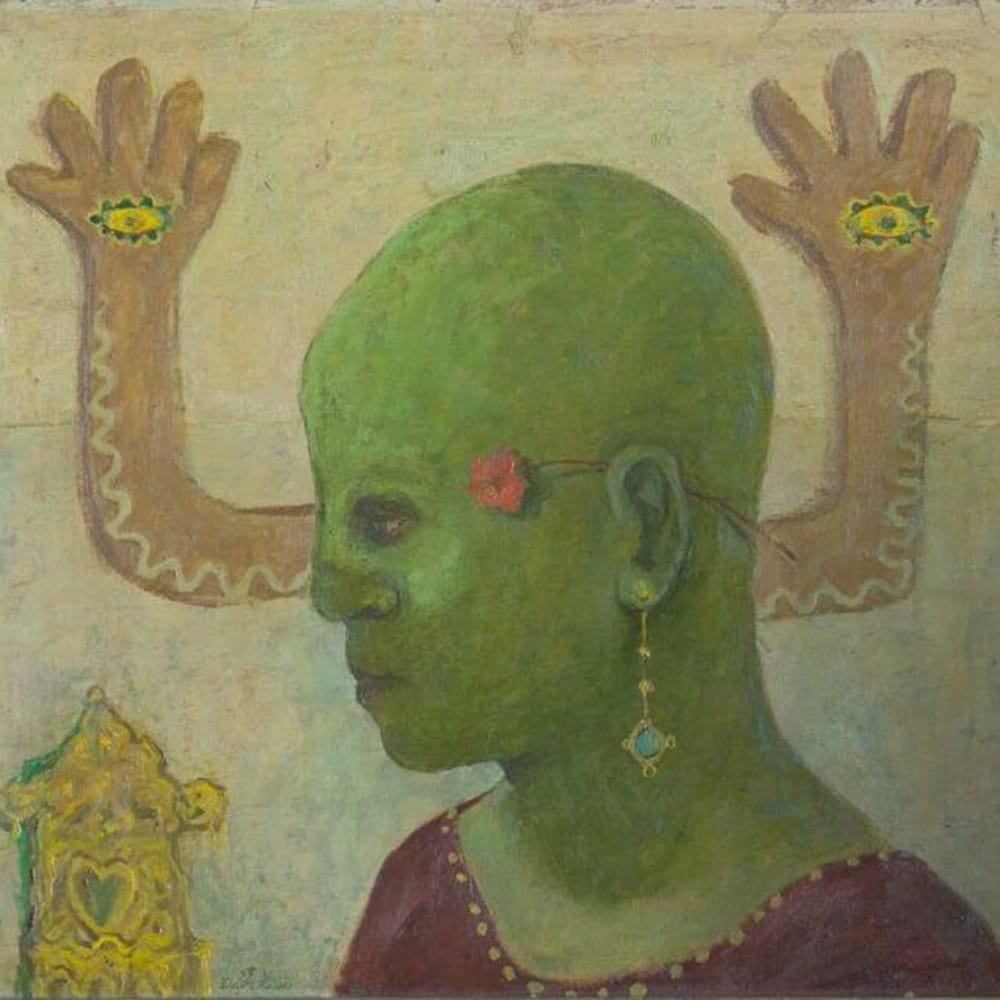 'The Green Fool', Abdel Hadi El Gazzar, 1951. Courtesy of Naguib Sawiris Collection, Cairo.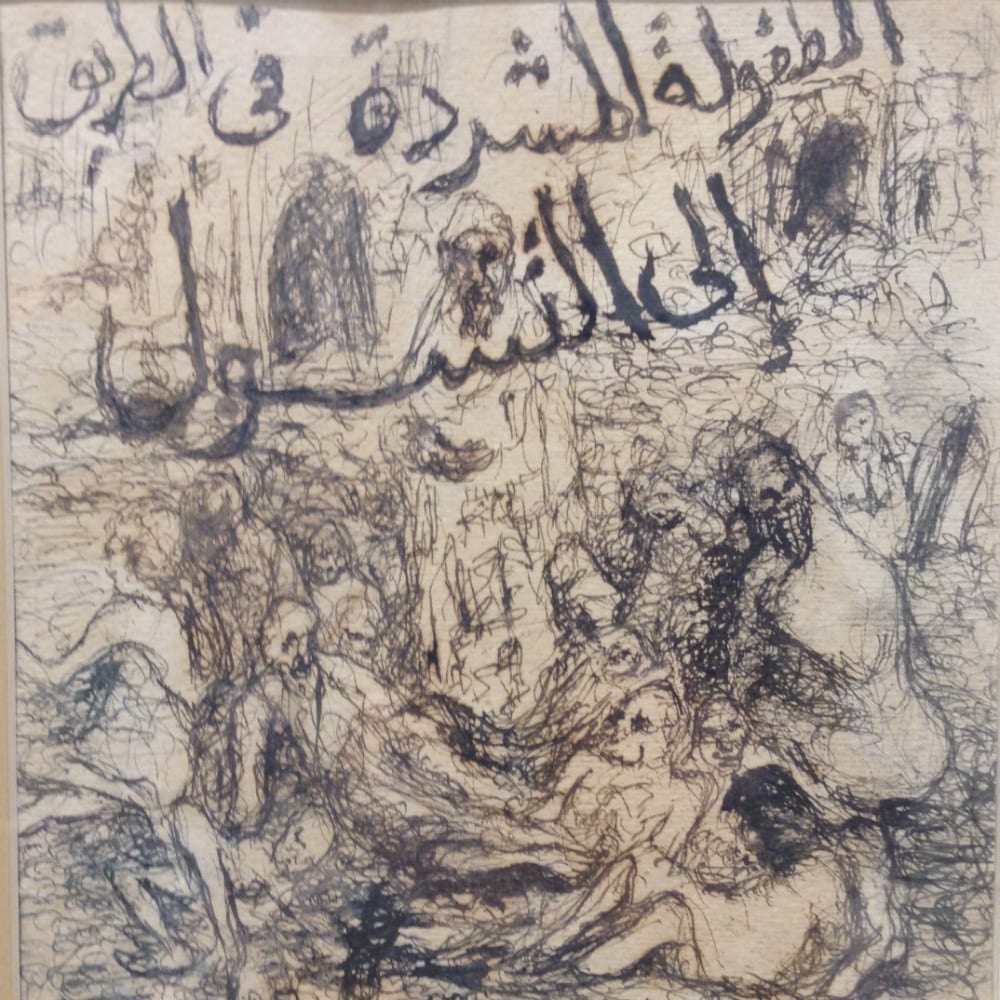 'Untitled', Abdel Hadi El Gazzar, 1948. Pen on Paper 17x20cm. Courtesy of Karim Francis Gallery
---
As faces often reveal hidden stories, another Middle Eastern modernist who portrayed the lower class in a memorable manner was the Saudi artist Abdulsattar Al Mussa. During the 1980s, the Russia-educated artist created expressive, black-and-white imagery of imagined social scenes. Through carved drawings and cardboard works, Al Mussa presented the simplicity and arduousness of daily life: the dexterous fisherman lost in thought, the young and delicate bride from Refaa in preparation, and a joyful scene of women chanting. Overall, it is through Al Mussa's subjects' calm and intimate composures that one senses the stillness of a moment, the stillness of life.
---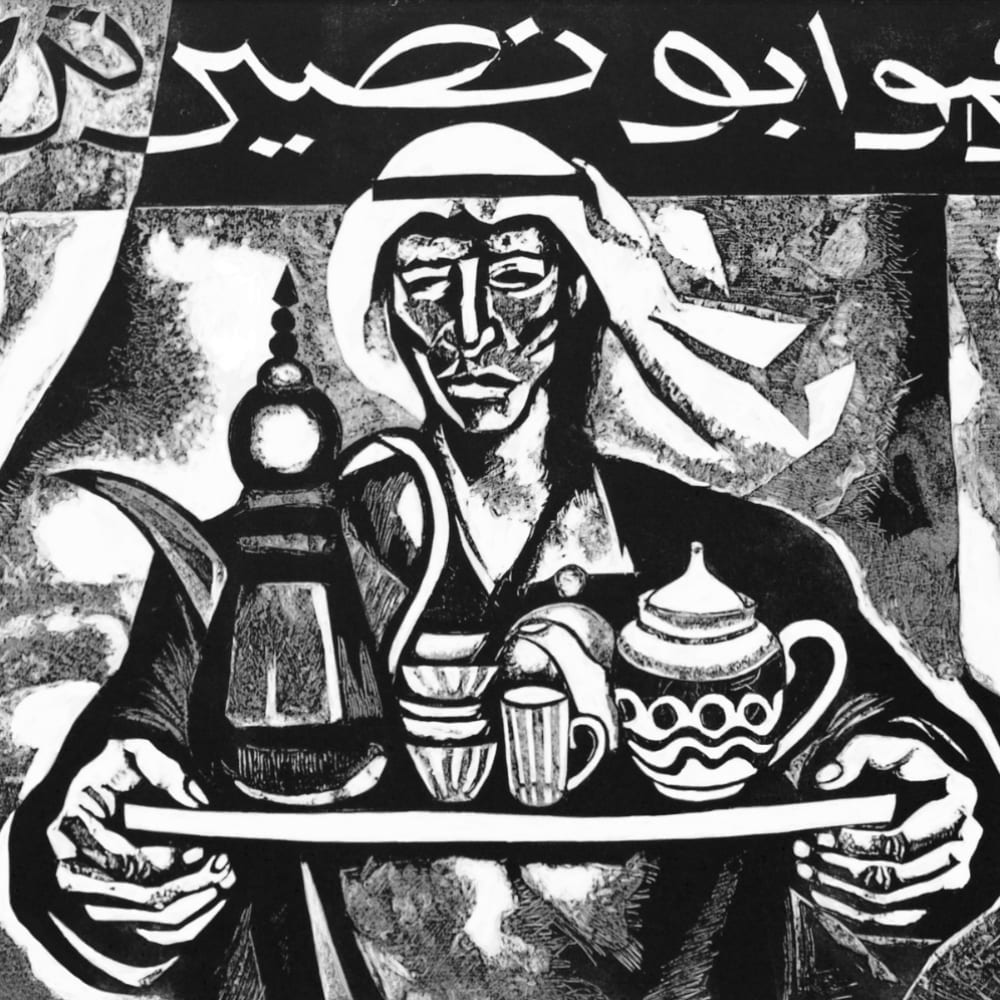 'Hospitality (Abu Nuser Café)', Abdulsattar Al Mussa. Courtesy of Hafez Gallery.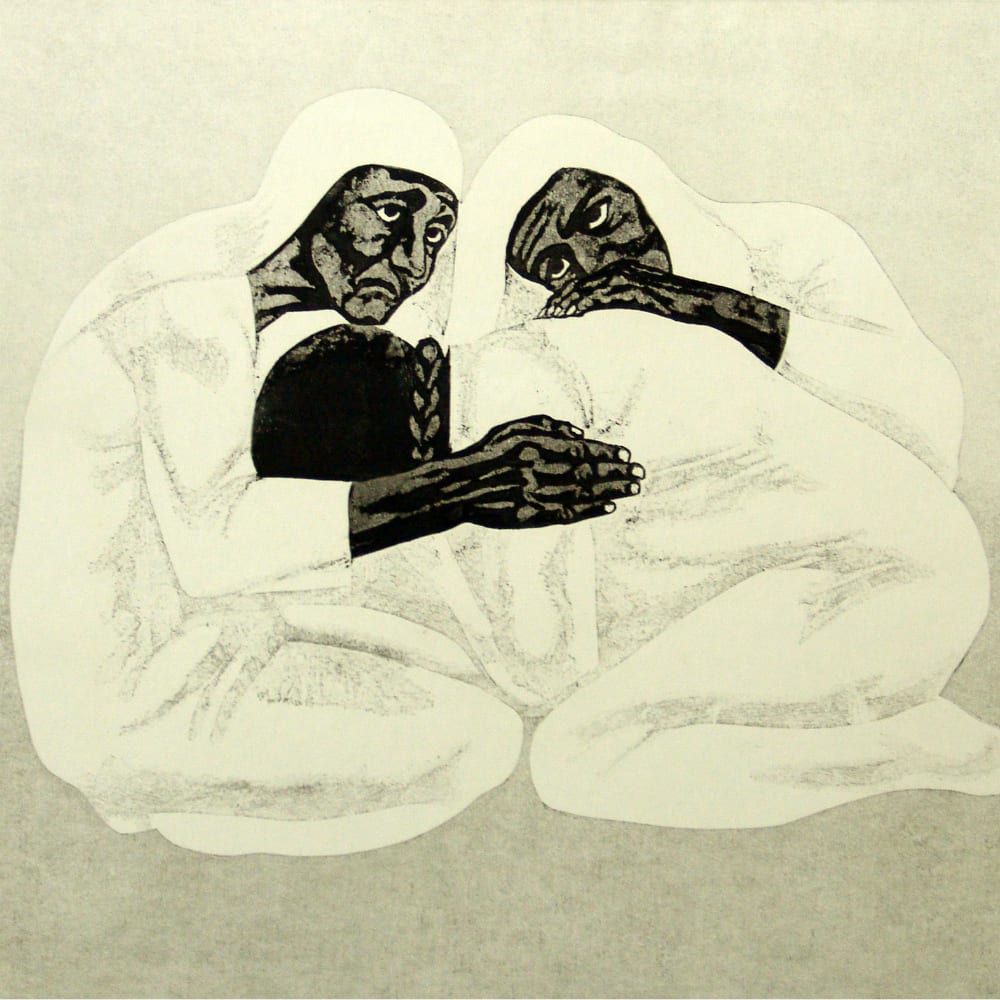 'Untitled', Abdulsattar Al Mussa. Courtesy of Hafez Gallery.
---
Shifting over to India, the Calcutta-born Bikash Bhattacharjee, on the other hand, experimented with surrealism and geometrical abstraction. Moreover, he may well be perceived as an 'artivist', combining the forceful fields of art and activism to shed light on a central theme in his painterly oeuvre: violence against women. Born and educated in Calcutta, Bhattacharjee was a socially aware child,
who witnessed the violent and deadly communal riots that spread across Calcutta, right after the Partition of Bengal in 1947. Combined with his father's untimely passing during his childhood, such imagery came to leave an indelible mark on Bhattacharjee's art and conscious. He specifically became known for his hauntingly disturbing portraits of abused, yet dignified women. With their dark, hollow eyes and folded arms, set in abandoned and eerie landscapes, the viewer cannot escape their confrontation and strength.
---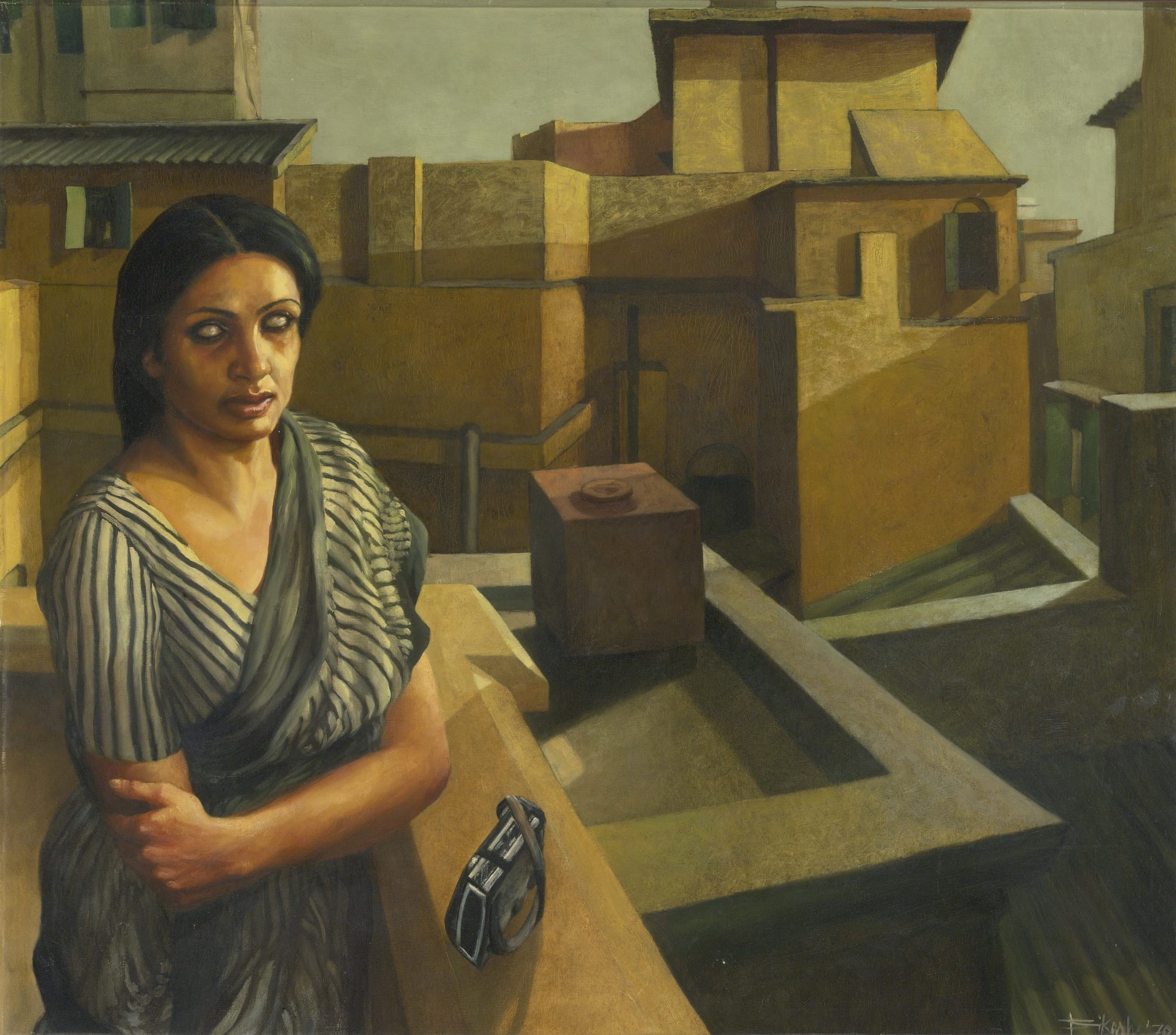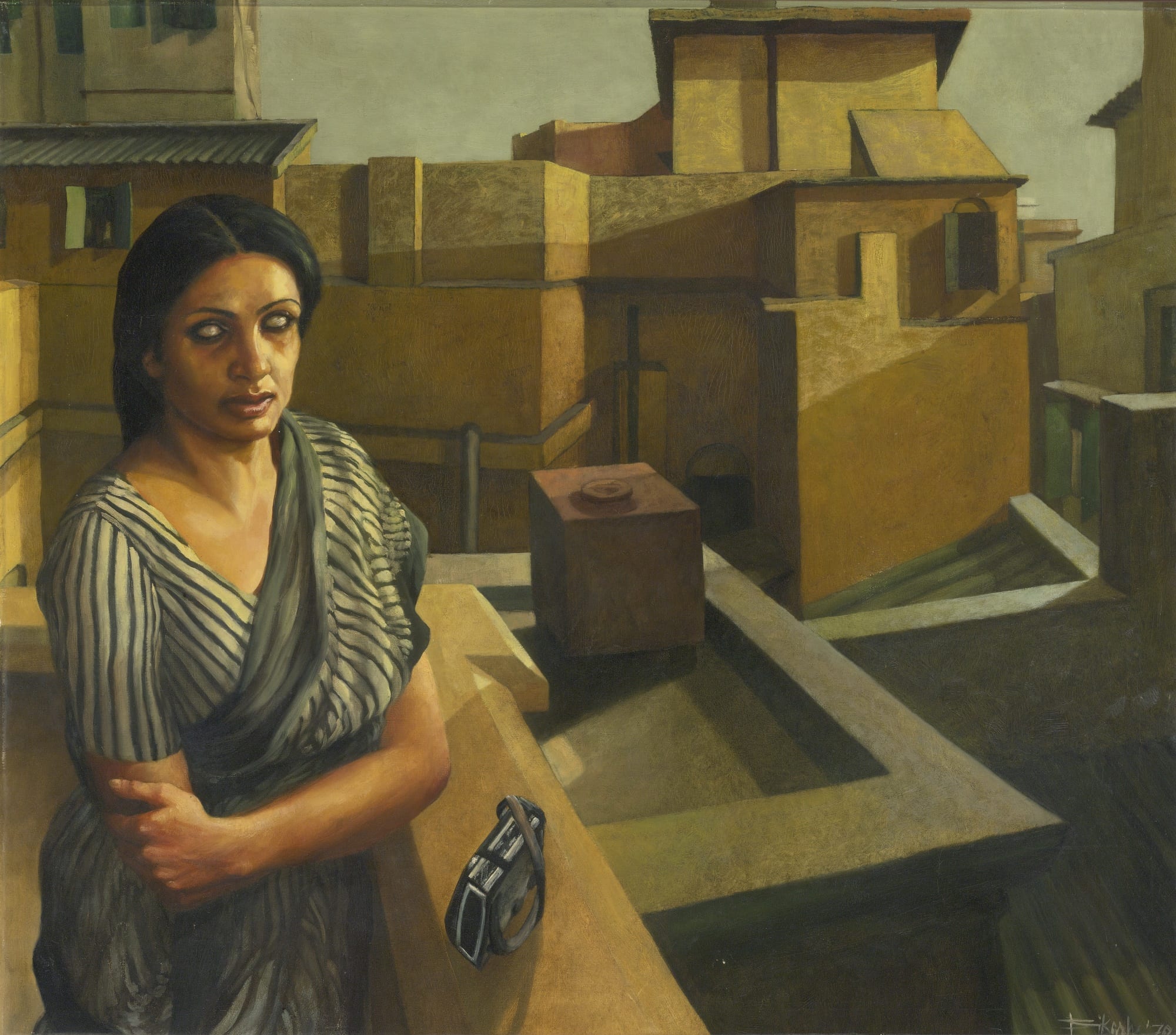 'And the Twilight', Bikash Bhattacharjee, 1979. Courtesy of Sotheby's.
---
---
---
Digital Art at Art Dubai 2022
South Asian Art at Art Dubai 2022
Art Dubai Modern: The Soul of Progress
Art Dubai 2022 Contemporary Highlights: Craft and Geometry
African Art at Art Dubai 2022
Art Dubai Digital: 5 Works Not to Miss
Nancy Adajania on Bawwaba