My Mother, A Fearless, Rhythmic Poet
---
---
'Rewind' is a feature series on the Art Dubai blog, looking at the life and personality of a Modern artist from the Middle East, Africa or South Asia, who is connected to the fair through one of the Art Dubai Modern participating galleries. The stories are told through the eyes of a close relative.
---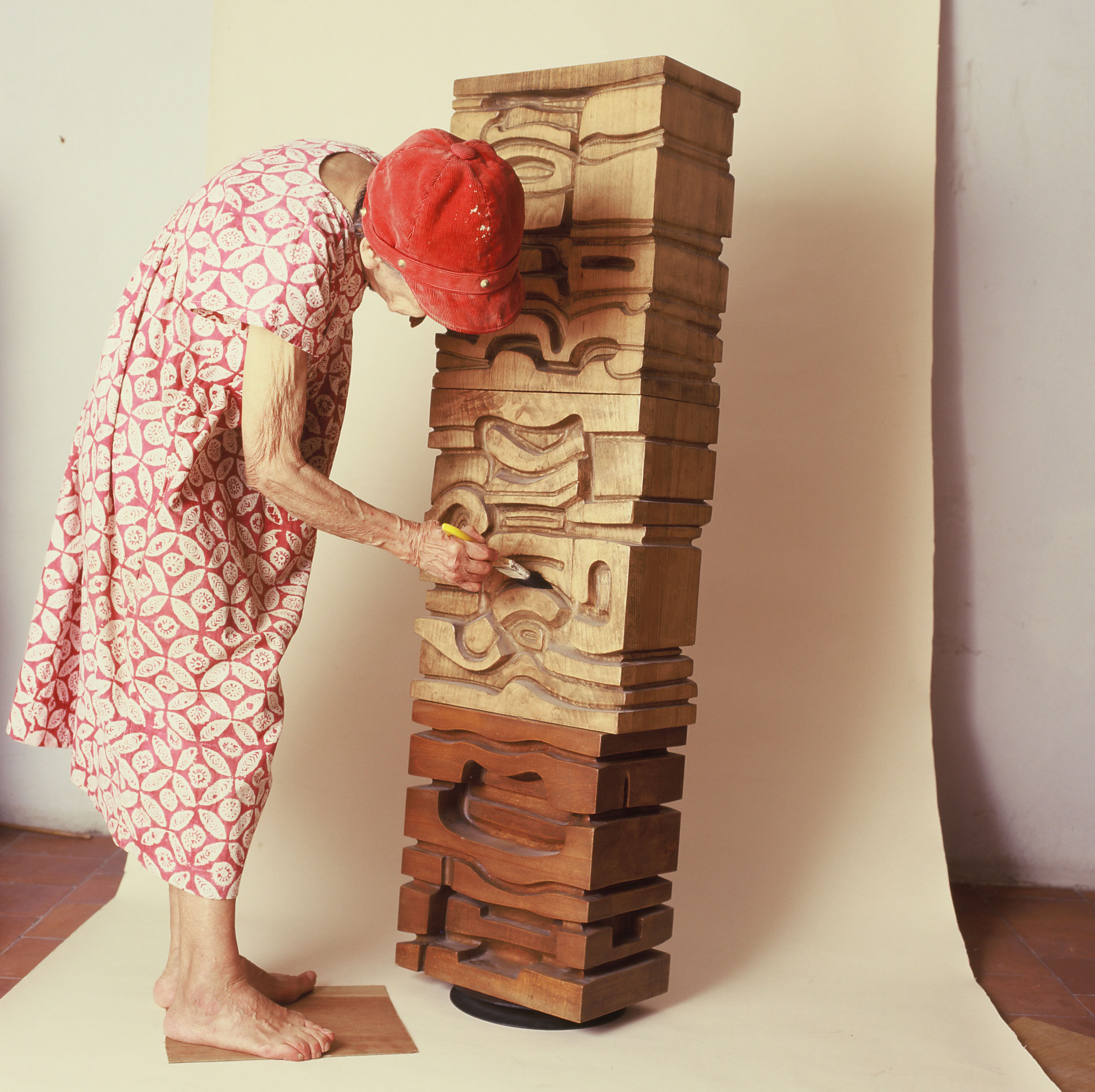 Saloua Raouda Choucair, 1998.
---
We'd spend summers in Ainab, a town on the slopes of Mount Lebanon overlooking Beirut. We didn't just pick flowers in the forest, we'd make flowers from those flowers. She taught me how to look at things, to ask myself to define the character of each flower. We'd walk in the woods, become amazed with things we found, separate flowers, gather pieces from the barks of trees and create arrangements.
---
I was an only child, but my mother was so playful. I never got bored. When I sat with her in the studio, she'd give me some clay and I'd spend hours creating something. She'd ask me if I wanted to go downstairs to play with other kids, but I'd say no thanks, I'm having more fun here. I remember her in the studio always, she worked constantly.
---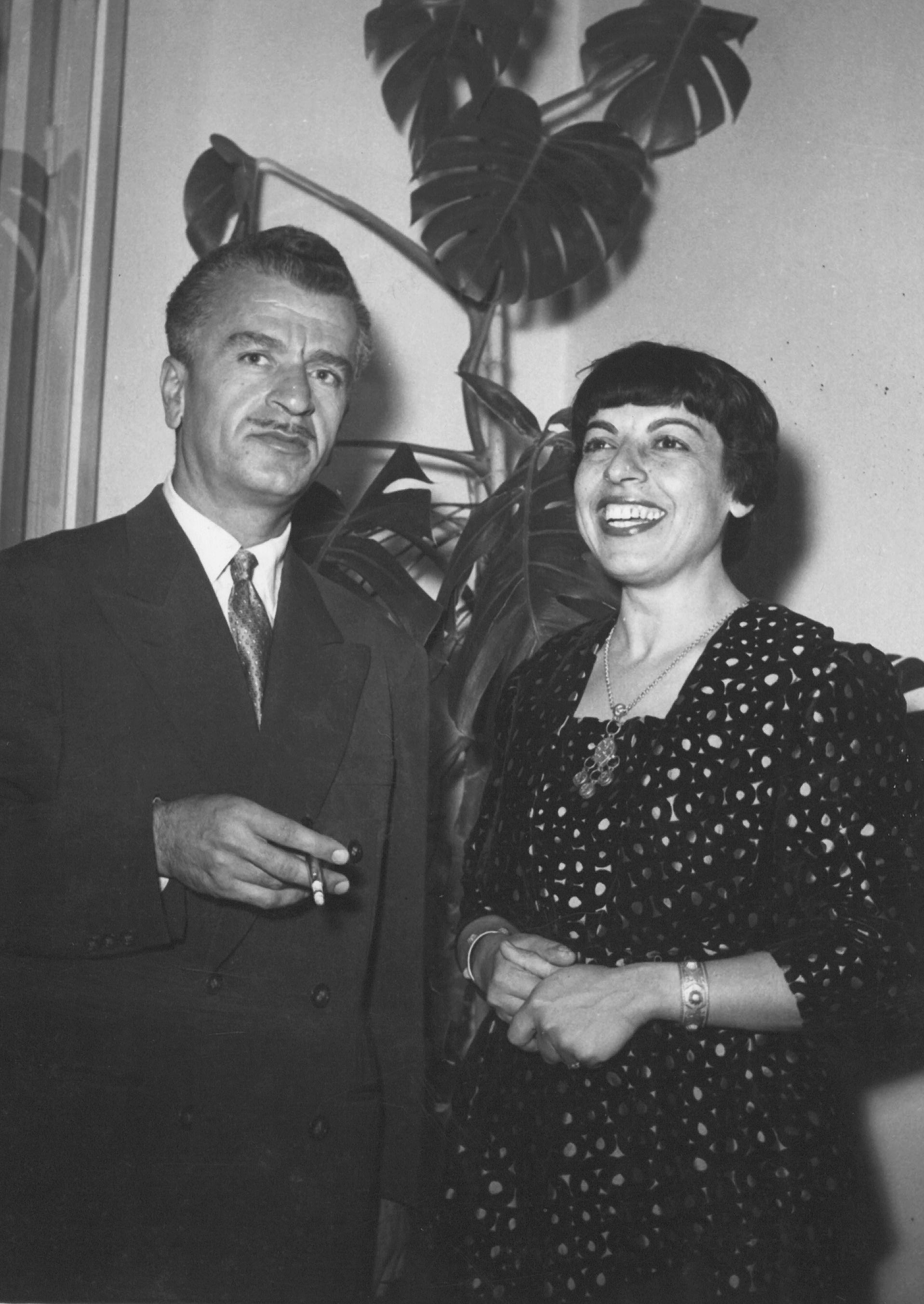 Saloua & Youssef Choucair, 1953. 
She married in 1953 and had me four years later, when she was 40. She loved my father, who wasn't traditional, and was very seduced by him. He was impatient with life, but she wasn't. He had such an incredible sense of humour and she would laugh hysterically at his jokes even if she'd heard them 70 times. He was witty and smart, they were friends and he totally believed in her work. He never interfered.
---
My mother had such a passion, no one questioned what she was doing, but everyone felt it was important. I paint because it's therapeutic, but my mother had an overwhelming mission. Her drive was very imposing, her soul was busy with something and her presence was so powerful. She worked all the time, had her own ideas and views and would take me to exhibitions and galleries. In 1974, she had a huge retrospective at the Ministry of Tourism in Beirut and I distributed the catalogue at the door. People came in hoards.
---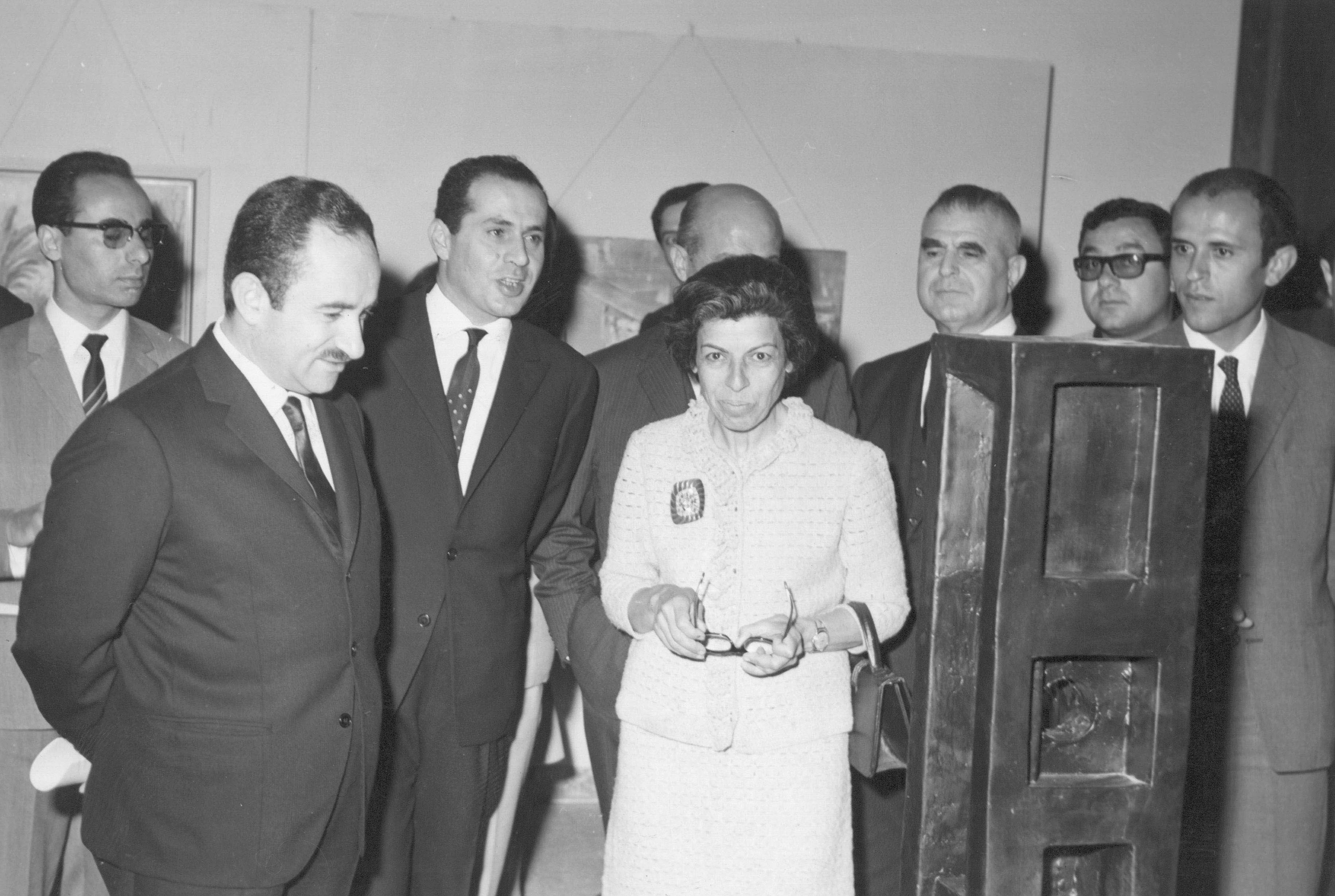 Saloua in front of one of her metallic sculptures, 1960s
---
Her works were beautiful, they didn't need an explanation. I feel like it was only later that I studied my mother. Today, I think her work is outstanding. I'll be putting together one of her poems, and I think to myself that these sculptures are beautiful even from the bottom; from all sides, they stand so well. I've spent so much time with her work, and yet I still see new angles. There is a dimension to it, which is amazing. Her work is fascinating and as I get older, I like it more and it's not because she's my mother. I just think it's unbelievable, it's so original and something powerful continues to surface. Perhaps it's instinctual, I don't know. It doesn't look like anything I've seen.
---
She was such a character. In her 60s, the doctor advised her to swim for her backache. So, she would wear her swimsuit, put on a bathrobe, go to the corniche, dive into the sea and swim for 30 minutes. She'd come home wet then shower and head to the studio. She was just fearless and for her, that was her sea, it was her home. When I said I wanted earrings, a belt or hair accessories, she would make them. She always did things for me that I used. She never encouraged me to paint, she felt that painting was dead. Her paintings were murals, she said.
---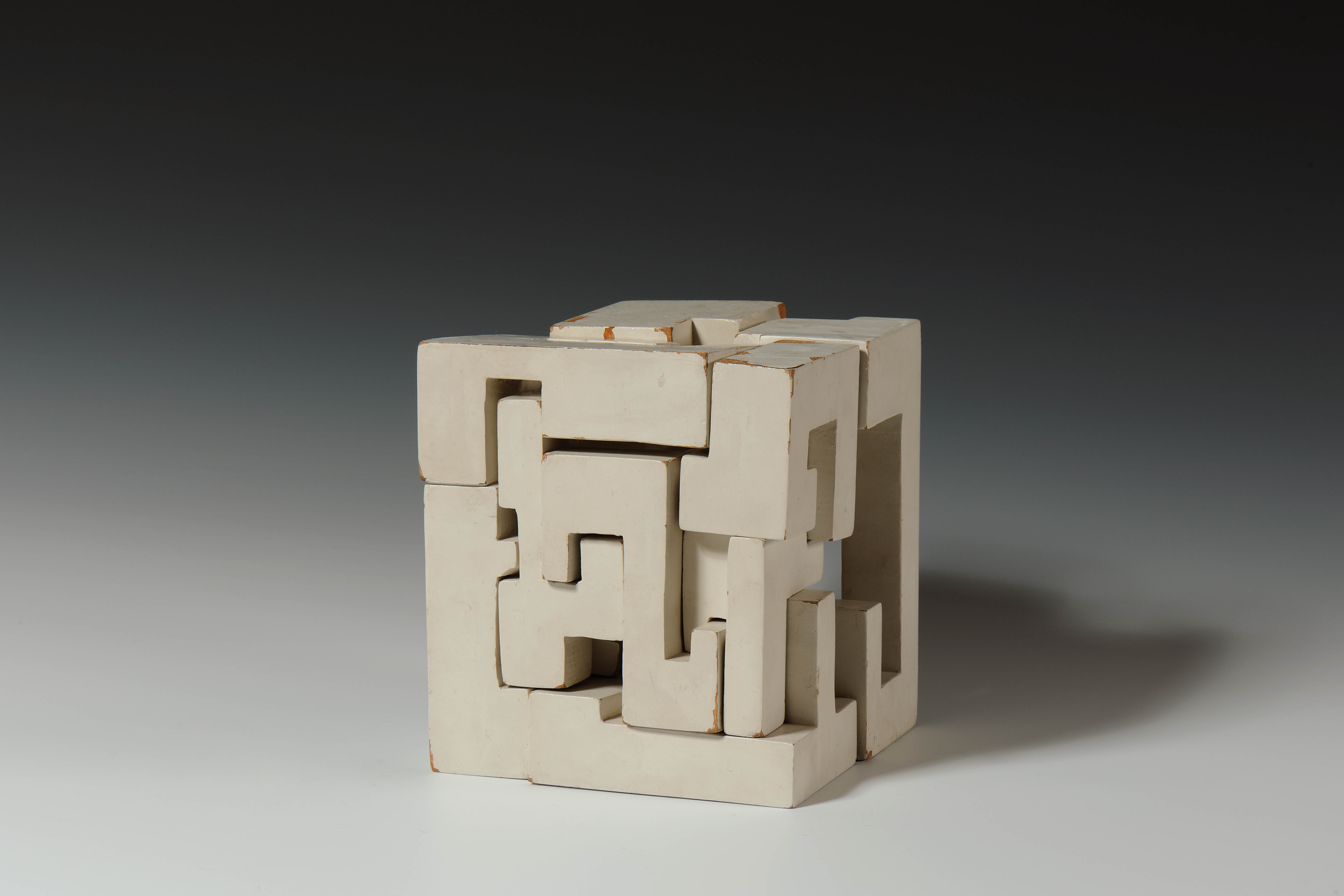 Poem Cube, White Wood, 16 x 16 x 16 cm; 1963-65
---
My father passed away in 1999 and I think that is when my mother's Alzheimer's started. The disease took its time, it was slow and she diminished slowly. In her 80s, she would say that everything has an end, even the mind; she knew she was coming close to the end, but she was a very happy person. When we had her show at the Beirut Exhibition Centre in 2011, I pointed to her self-portrait and she said it was so ugly! She then pointed to one of her sculptures and said it was beautiful. When I told her about her Tate retrospective in 2013, she said she wasn't surprised it was happening.
---
I really enjoyed my mother taking her time to leave this world. She was melting without pain, she wouldn't register pain. She never instilled any guilt in me and would always say, 'I did what I had to do and so do you'. She had such a great smile, I remember her big teeth. I miss her old and crumpled in bed, I miss her young, her presence was incredible. I just really miss her.
---
I am considering a foundation or museum for her. She was inspired by a piece of land in Lebanon that she had actually landscaped, envisioning something there. I've kept all her tools and I'd like to show what she used alongside what she created. I am trying to save everything. My mother always liked her works being together, she didn't like them separated and I hope I manage to do this for her.
---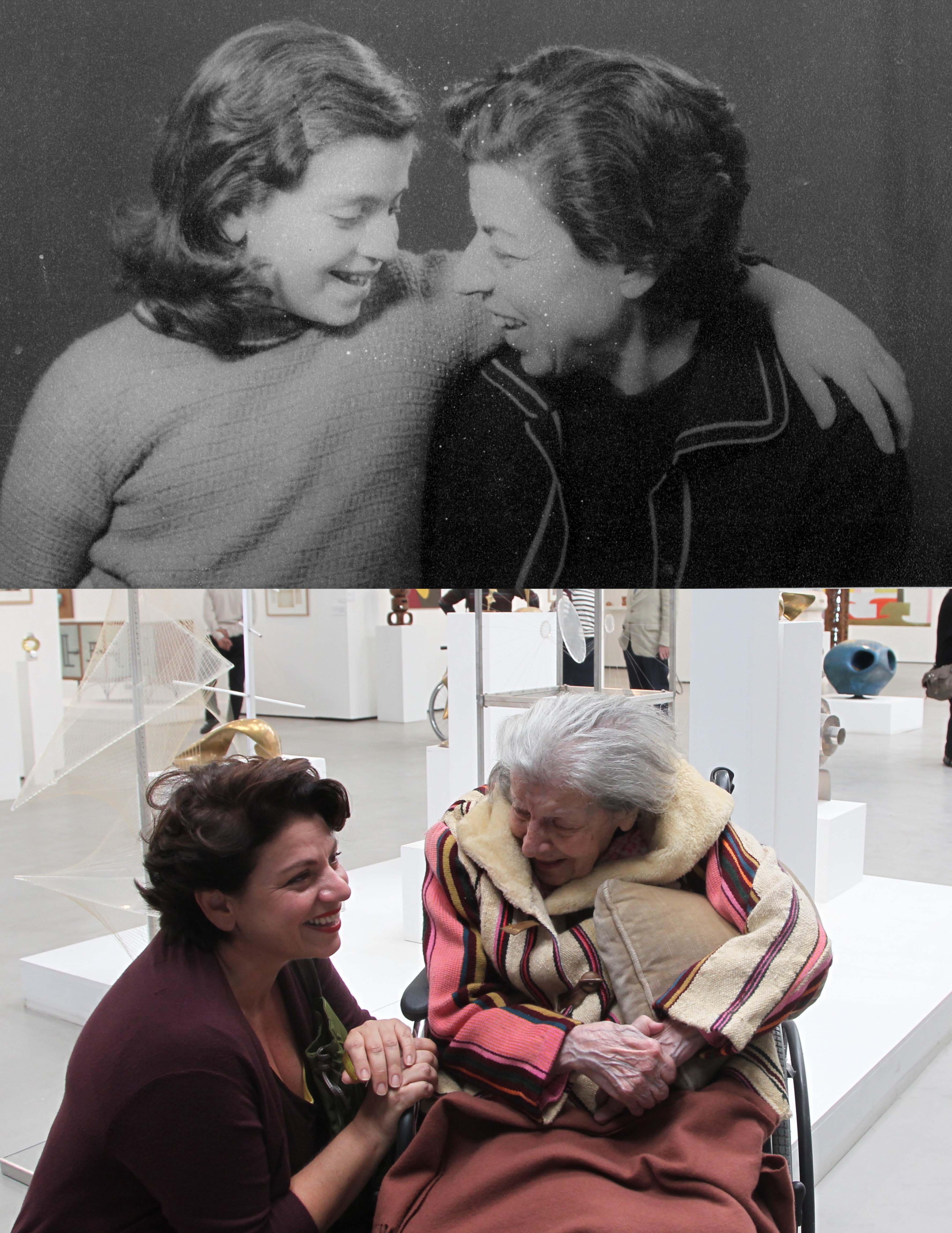 Saloua Choucair & Hala Schoukair. 
---
All images courtesy of Hala Schoukair, The Choucair Estate and Agial Art Gallery.
---
---
---
Digital Art at Art Dubai 2022
South Asian Art at Art Dubai 2022
Art Dubai Modern: The Soul of Progress
Art Dubai 2022 Contemporary Highlights: Craft and Geometry
African Art at Art Dubai 2022
Art Dubai Digital: 5 Works Not to Miss
Nancy Adajania on Bawwaba