Seeking Recognition at Home and Abroad
---
By Rawaa Talass
---
Art Dubai Modern presents museum-quality works by masters from the Middle East, South Asia and Africa, whose works have been influential throughout the 20th century. The 2018 edition of the fair will feature 16 galleries from 14 countries with solo, two-artist and group exhibits. For this occasion, a series of insightful articles will examine diverse themes and key moments in history, explored by regional modernists through their dynamic trajectories.
Visit Art Dubai Modern from 21-24 March.
---
---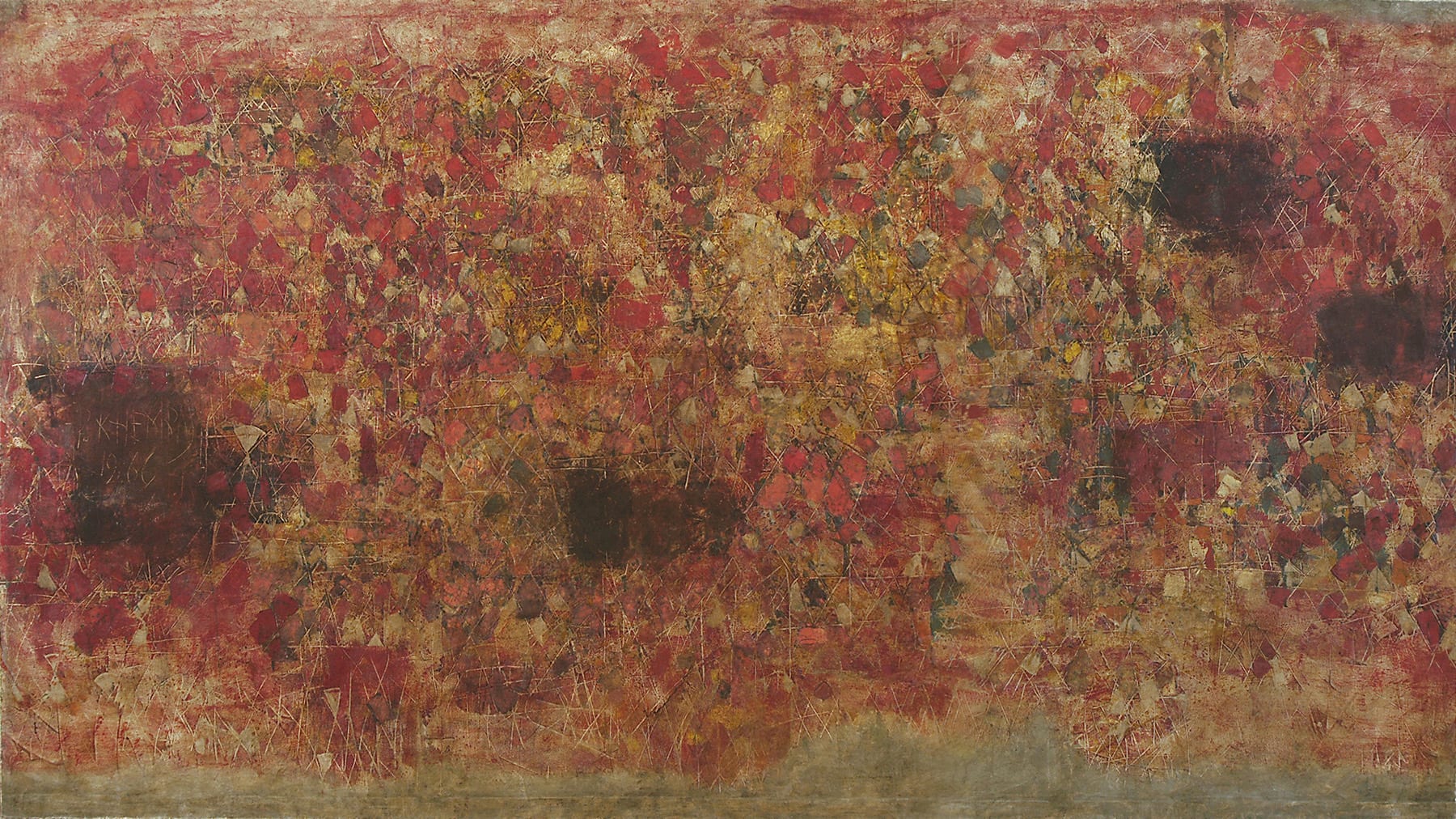 P Khemraj, Charpai, 1966, Courtesy of DAG.
---
There are fascinating stories of fearless and innovative artists, who contributed to the birth of Modernism and which are mostly untold, if not entirely unknown. A thoughtful selection of works by more than 50 modernists from the Middle East, Africa, and South Asia will be on show for the 12th edition of Art Dubai this March. From the Indian subcontinent, a variety of paintings by pioneers of the 20th century will be presented by galleries which focus on Indian art, among them, Akara Art, DAG, and Sanchit Art.
---
Works by luminaries such as Maqbool Fida Husain (1915-2011), Francis Newton Souza (1924-2002), Avinash Chandra (1931-1991) and Piraji Sagara (1931-2014) amongst others, reveal the artists' lifelong dedication to their art, and the evolution of their trajectories over the years, experimenting with various themes and artistic mediums. To grasp this artistic period, one has to go back to the critical year of 1947.
---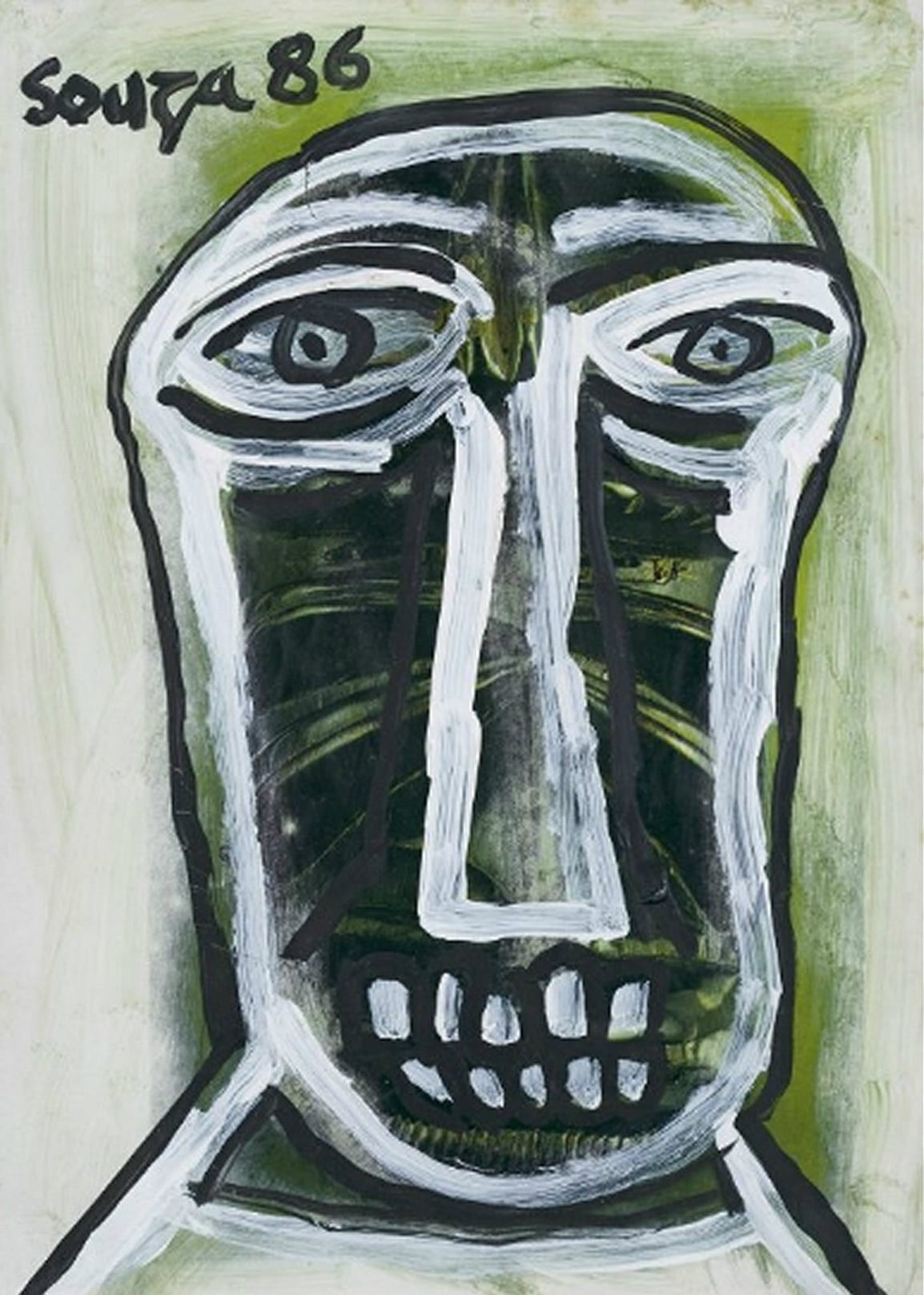 F.N. Souza, Untitled, 1986, Acrylic on Paper, 27.94cm x 20.32cm, Courtesy of F.N. Souza and Sanchit Gallery.
---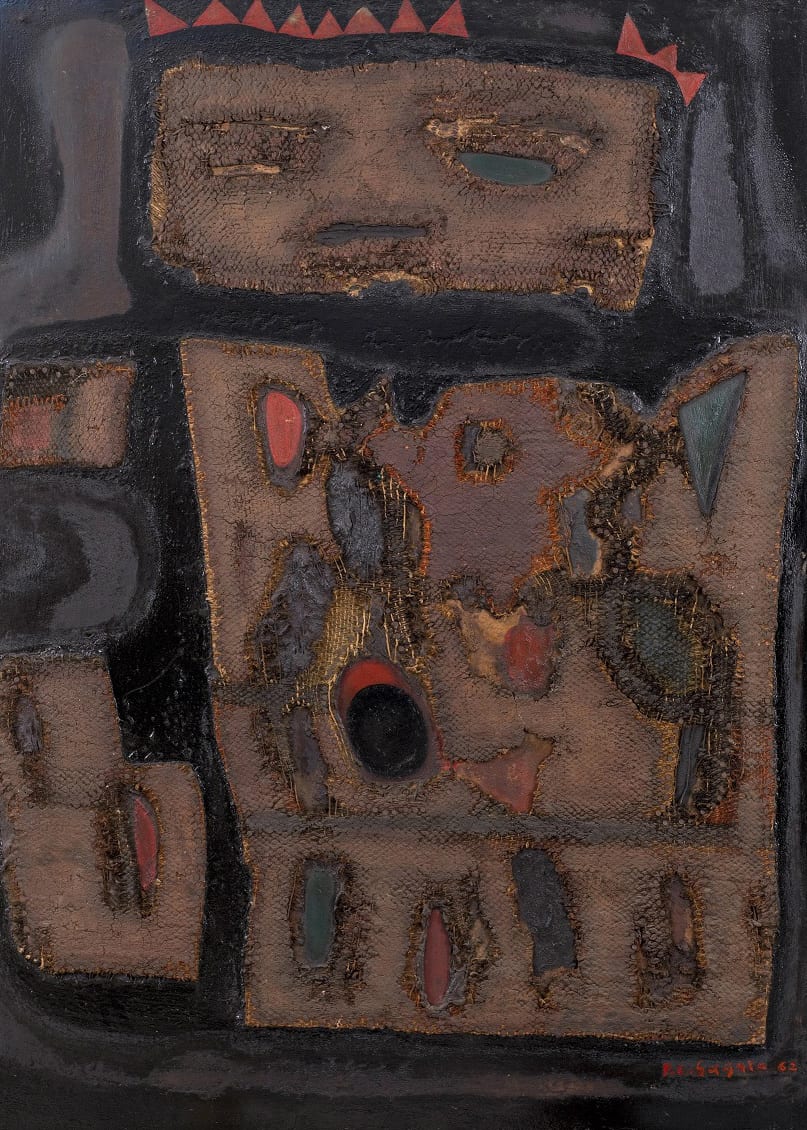 Piraji Sagara, Untitled, 1961, Courtesy of Akara Art.
---
1947 not only witnessed the birth of an independent India, but also represented a groundbreaking moment in time, when a forward-thinking artistic identity in post-colonial India was in formation. Partly inspired by a sense of freedom emanating from the nation's robust political leaders, young and invigorated Indian artists began forming groups and artistic movements in the ensuing decades, aiming to modernise Indian art and take part in the international language of the Avant-garde. Such was the case with Mumbai's revolutionary Progressive Artists' Group (PAG), which formed in 1947 and lasted until 1956. Its members included the likes of Souza, Sayed Haidar Raza, and Krishna Howlaji Ara, who were recognised as masters. As a collective, one essential goal was to veer away from the ideologies of the formerly influential and conservative Bengal School of Art that rejected Western Modernism and instead focused on traditional Indian art and aesthetics.
---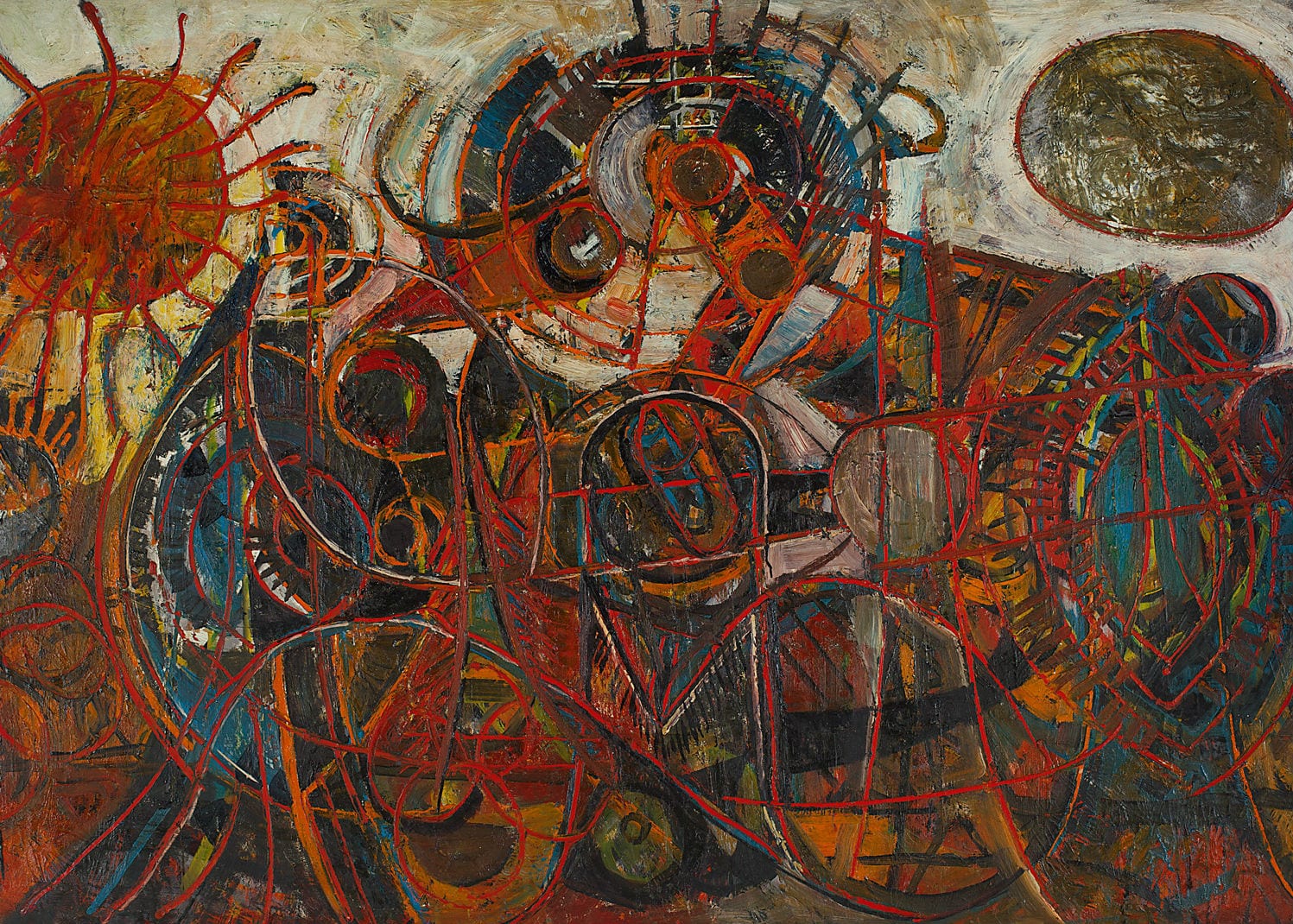 Avinash Chandra, Untitled, 1975, Courtesy of DAG.
---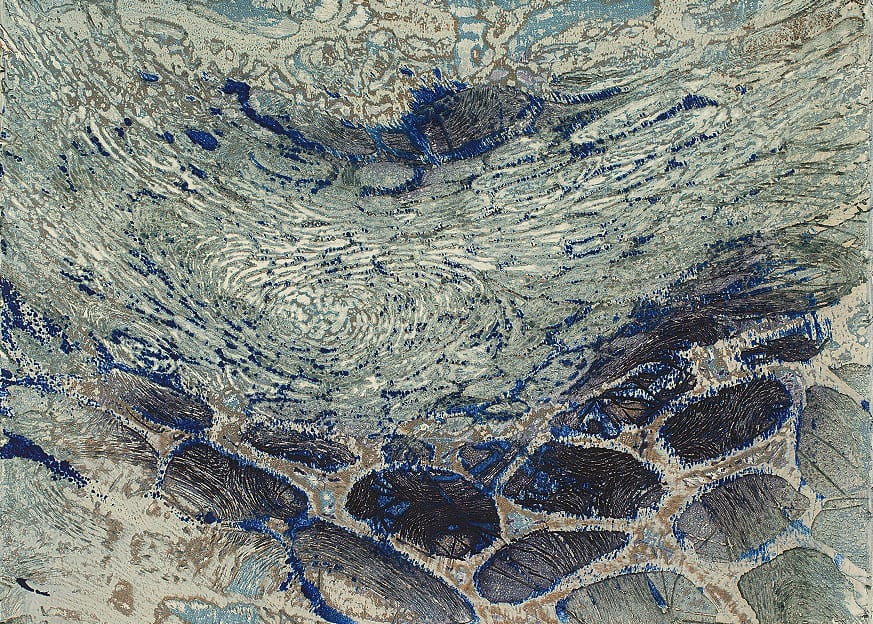 Krishna Reddy, Whirlpool, 1963, Courtesy of DAG.
---
Indian modernists were intellectually active and socially engaged, taking on complex, compelling themes and concepts such as socio-political concerns, abstraction, landscape imagery, figuration, minimalism, and spirituality. Their works weaved stories from all facets of life – exploring the profound simplicity and spirituality of a single dot (known as the bindu) to recording violence against women in Calcutta. At home, the artists were rewarded with prestigious national prizes and their exhibitions were successful, often attended (and sometimes inaugurated) by the nation's top tier of political figures, most notably Prime Minister Indira Gandhi (1917-1984).
---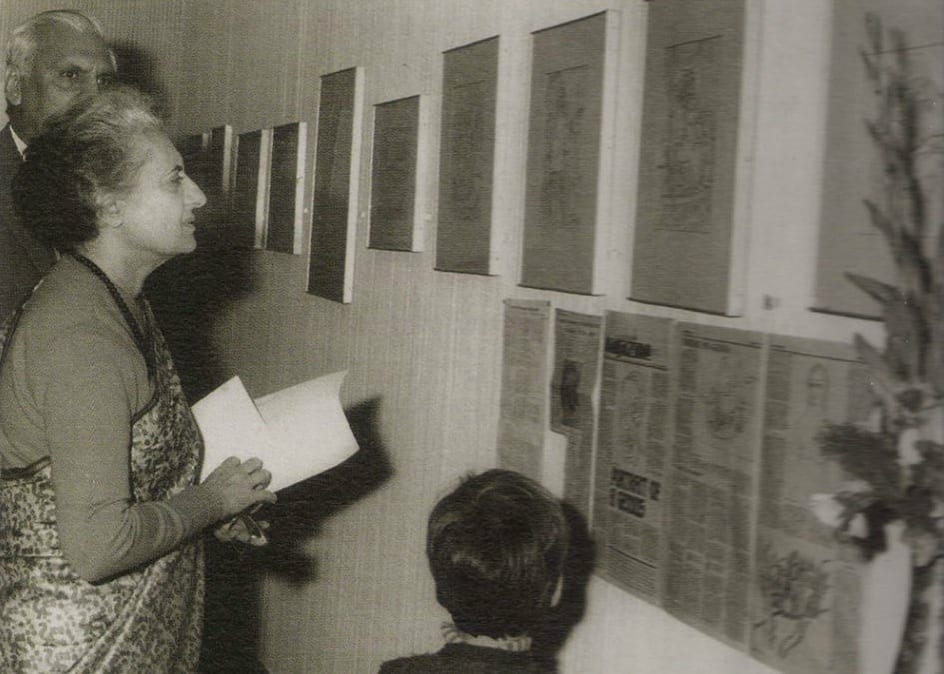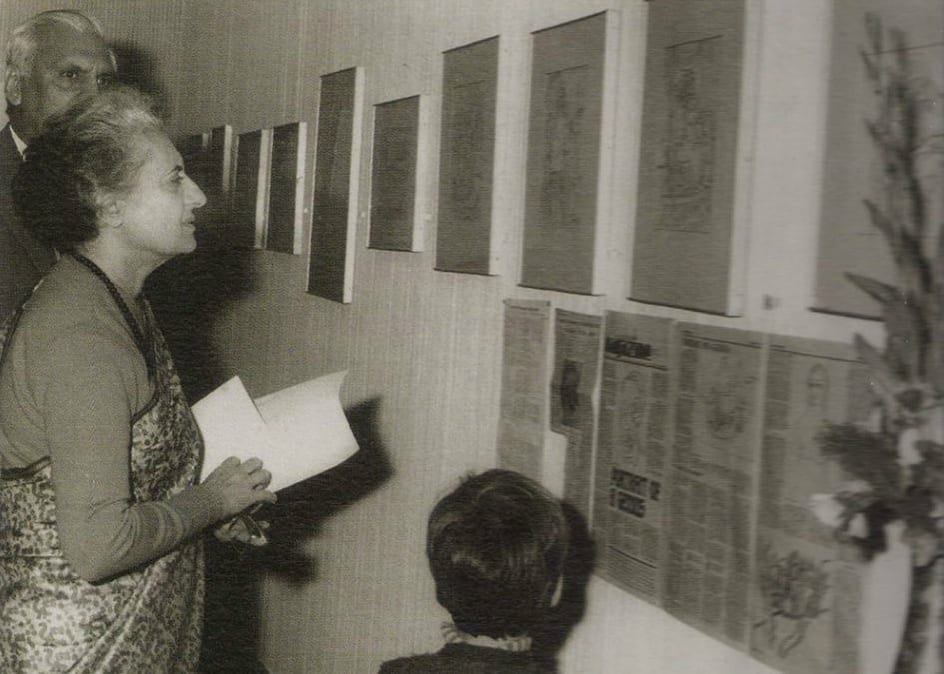 Indira Gandhi at Souza's exhibition in India, 1976. Courtesy of A Dhoomimal Initiative.
---
---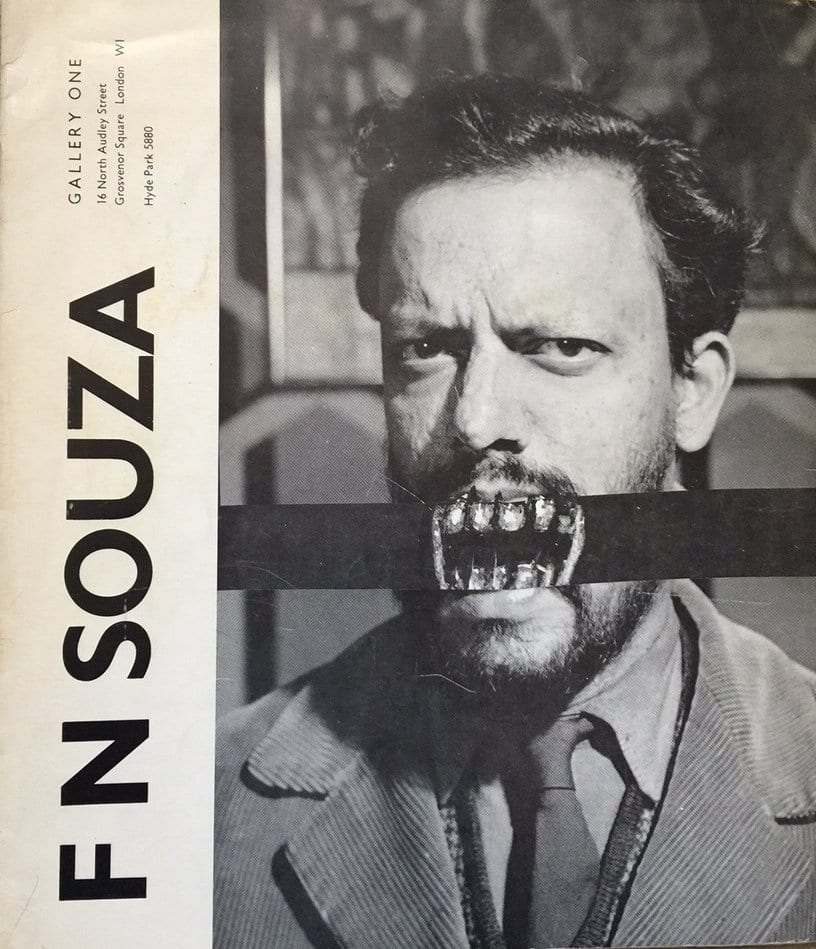 F.N. Souza catalogue at Gallery One, London, 1950s.
---
Later, in the 1950s and 1960s, aspiring Indian art students flocked to the West, often supported by government-funded scholarships particularly to Paris. It was in Europe where these artists, such as Ram Kumar (b. 1924) and Krishna Reddy (b. 1925), became receptive to Western art. The 1960s proved a significant decade when a number of artists began displaying their works in renowned Western art institutions and events, accepting major public commissions, and contributing to the field of international Modernism: Souza became the first Indian artist to enjoy a solo, sold-out exhibition in London (at Gallery One) in 1957; Chandra became the first Indian artist to participate at Kassel's Documenta in 1964 and in the same year, showed at the Tate Gallery; in the same decade, Shanti Dave (b. 1931) finalised a commission to paint murals in JFK Airport's private lounges. Fascinatingly, the success of most Indian modernists was little-known abroad.
---
Through their freedom of movement and bold ideas, these pioneers, like many of their counterparts in Asia, proved that the notion of Modernism moved beyond borders and was a transnational phenomenon.
---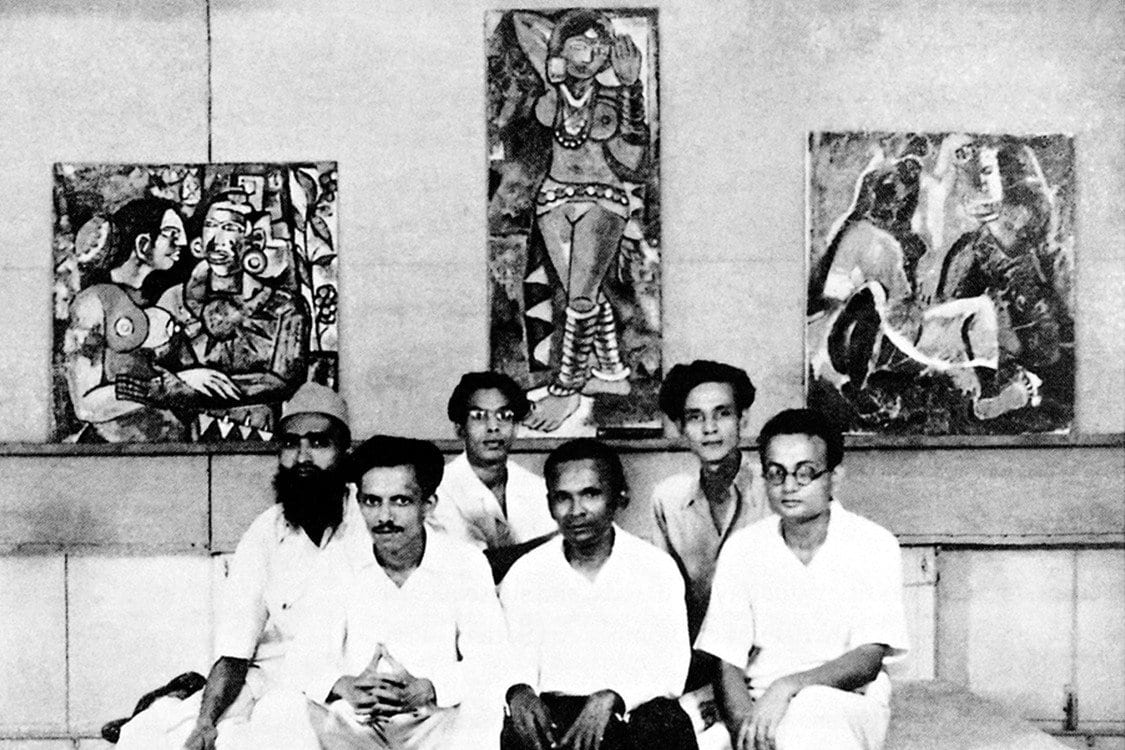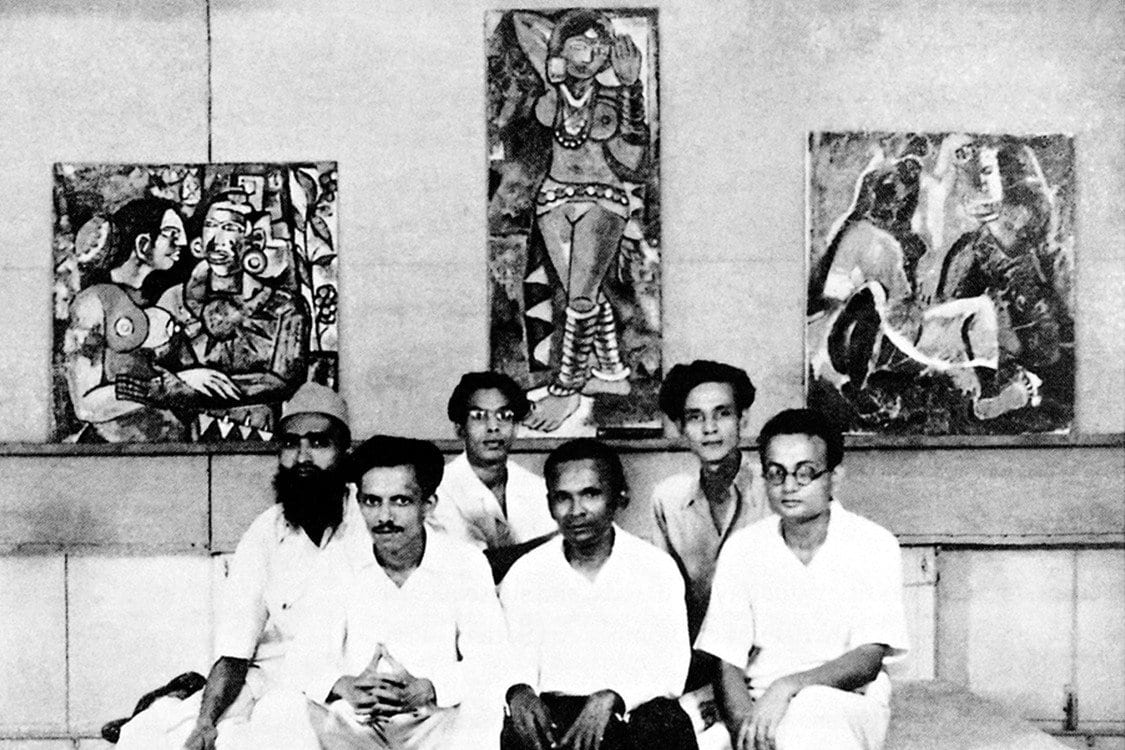 Members of Mumbai's Progressive Artists' Group, c. 1947. Courtesy of Artisera Editorial.
---
---
Digital Art at Art Dubai 2022
South Asian Art at Art Dubai 2022
Art Dubai Modern: The Soul of Progress
Art Dubai 2022 Contemporary Highlights: Craft and Geometry
African Art at Art Dubai 2022
Art Dubai Digital: 5 Works Not to Miss
Nancy Adajania on Bawwaba