The Story Behind Emily Jacir's Project for the 2009 Venice Biennale
---
---
Making Worlds, the title of Daniel Birnbaum's 53rd Venice Biennale marked a series of firsts for the Arab world: it was the UAE's debut national participation at the world's oldest biennial and also featured a platform presented by the Abu Dhabi Authority for Culture and Heritage (now merged with the Abu Dhabi Tourism Development and Investment Company to form super organisation, Abu Dhabi Tourism and Culture Authority). Saudi art debuted at the 2009 edition in the form of a collateral exhibition put forth by Edge of Arabia and lastly, the staging of Palestine c/o Venice, a ground-breaking show that celebrated Palestinian art at La Biennale for the first time since the biennial's establishment in 1895.
Curated by NYU Abu Dhabi professor Salwa Mikdadi, a specialist in the history of modern and contemporary art from the Arab world, Palestine c/o Venice featured the work of Taysir Batniji, Shadi Habib Allah, Sandi Hilal & Alessandro Petti, Jawad Al Malhi, Khalil Rabah and Emily Jacir.
---
---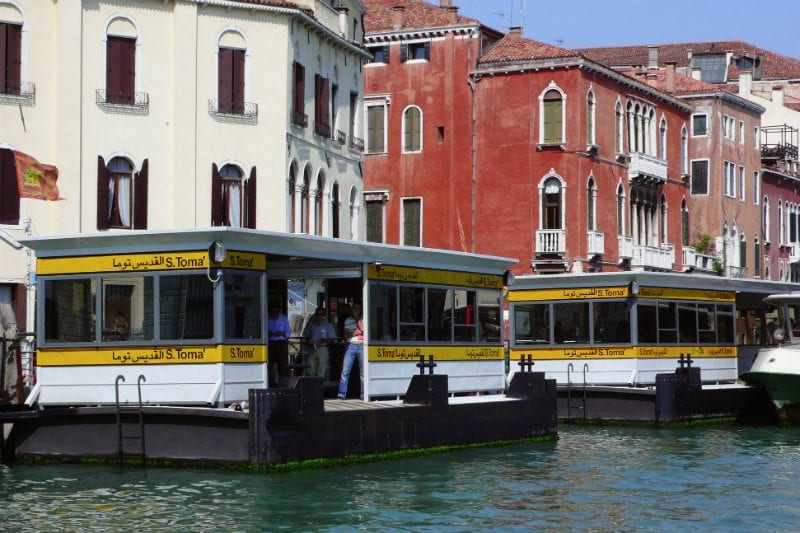 'stazione', 2008-2009, by Emily Jacir. Public Intervention on Line 1 Vaporetto Stops, Venice, Italy. Courtesy Emily Jacir.
---
However much pomp and circumstance surrounded Palestine c/o Venice, there was drama too: Jacir's project, stazione, was abruptly halted. The Palestinian artist and winner of the Golden Lion at the 52nd Venice Biennale in 2007, had conceived the idea of converting the names of the vaporetto stops in Arabic, creating bilingual translation along Line #1. stazione would have featured Arabic text alongside Italian, beginning at the Lido stop and ending at the Piazzale Roma. "The science, medicine, cartography, and philosophy of the Arab world all arrived in Europe through Venice. Venetian printing houses kept the works of Averroes and Avicenna translated and alive. The first Arabic book to be printed in its entirety from movable Arabic type was the Book of Hours published here in 1514 by Gregorio de Gregorii. It was also in Venice that Alessandro Paganino produced the first mechanically printed Arabic Quran in 1537/38," explains Jacir. "The Arabic translations inscribed onto the vaporetto route place each floating platform in direct dialogue with the surrounding architecture and urban design, thereby linking them with various elements of Venice's shared heritage with the Arab world. Simultaneously addressing the current rendered invisibility of Arabic in Venice, my project aims to remind visitors and citizens alike not only of the city's deep and varied cultural origins and influences but also of possible futures of exchange. Addressing our shared history of exchange, stazione put the vaporetto stops into a contemporary dialogue with the surrounding architecture of the buildings around it. The architectural and cultural cross-breeding of Venice would have been re-inscribed into the vaporetto stops. It was meant to honour Venice's shared history with the Arab and Islamic world and its interdependence with the rest of the Mediterranean."
Months after stazione was presented and accepted by the platform's curator, project commissioner (Vittorio Urbani), the City of Venice, Actv (Venice's vaporetto company) and Vela (marketing firm of Actv), Jacir received a call from Mikdadi in March – only three months away from the Biennale's opening – saying the project had been shut down. No reasons were given. "Supposedly the vaporetto company received pressure from an outside source to shut it down for political reasons," said Jacir in an interview with Nato Johnson. "Many colleagues of mine in Italy intervened on my behalf to try to find out more information and sent letters to Vela asking for answers, explaining my project, expressing their support for Vela and the project. The vaporetto company did not respond to these letters nor return anyone's phone calls. Some told me that the vaporetto company was forced by an outside source to shut it down immediately and the City Council was insinuated in this. I personally went to touch base with Vela the day of the Biennale opening in June to try to get more information, but was not given any direct or clear answers. All I could confirm was that the decision came from outside Vela. What came as a huge surprise to me during that meeting was that the man I spoke with mentioned the attacks on Gaza last December and said that this played a role in shutting down the project as it made the parties involved in the project 'nervous'. None of us involved in this had speculated that Gaza would have anything at all to do with this!"
---
---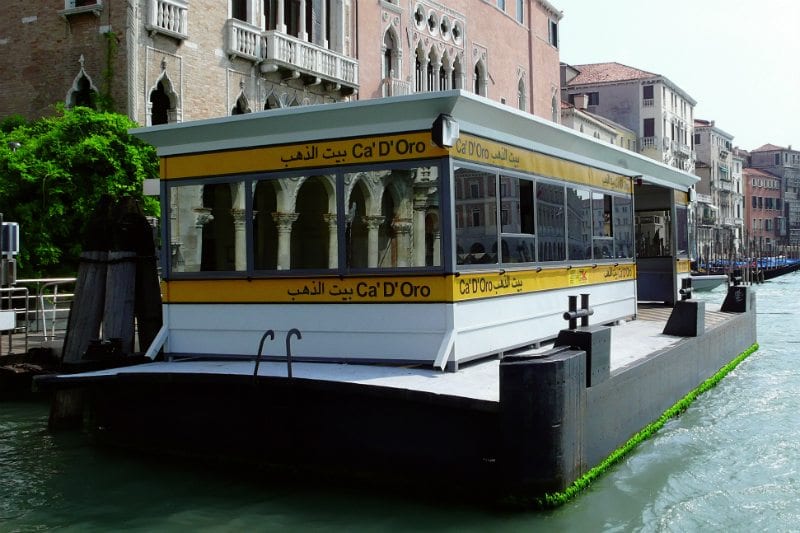 'stazione', 2008-2009, by Emily Jacir. Public Intervention on Line 1 Vaporetto Stops, Venice, Italy. Courtesy Emily Jacir.
---
Interestingly, Actv suggested a counter-proposal to Jacir: present tender photographs of stazione in a gallery. Actv even offered to sponsor this and give the artist a fee. While Palestine c/o Venice encouraged Jacir to accept this offer, she refused. stazione was a project two years in the making and involved extensive research on Jacir's part, exploring Venice's history with the Arab world. "Cultural cross-fertilisation is everywhere we look in Venice. Vaporetto #1 stops at every station along the Grand Canal where centuries of cross-cultural exchange between Venice and the Arab world are clearly visible along its banks. Forms that migrated from the East are evident in the architecture of Torre dell'Orologio, the campanile of the Basilica of San Pietro Castello, and Ca' d'Oro to name a few. Venetian craftsmen emulated the manufacturing techniques of Arab artisans in bookbinding, metalwork, textiles and glassblowing, inheriting the blowpipe technique invented in Palestine. Young Venetian noblemen were often sent East to learn Arabic, Persian and Turkish, and some Doges were born and grew up in the Arab world as well as vice versa many Arab merchants set up lodgings and warehouses in Venice," she says.
---
---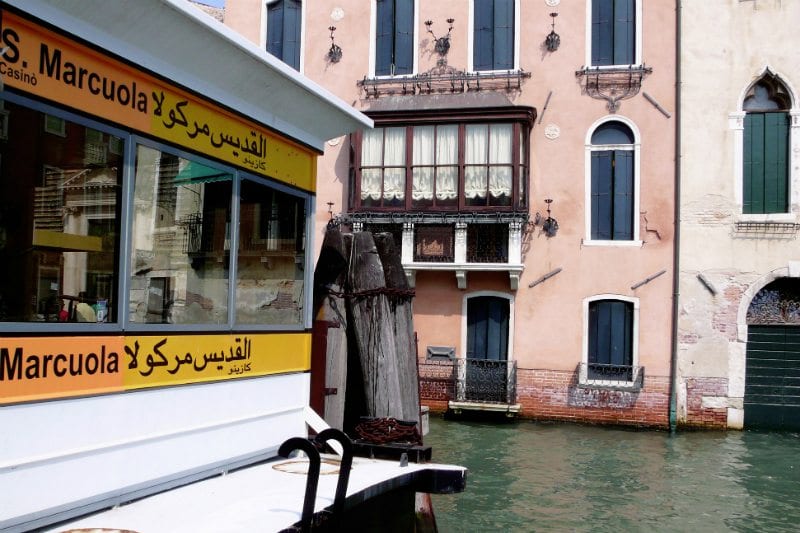 'stazione', 2008-2009, by Emily Jacir. Public Intervention on Line 1 Vaporetto Stops, Venice, Italy. Courtesy Emily Jacir.
---
In 2009, she created a foldable printed map of the project that pointed out where the translations were located in Venice. She did so for two main reasons: "First, I wanted the brochures to imply that the work was in place and that viewers who followed the map would find it; then, once they arrived at a site, they would wonder why it was not there. Second, I hoped that anyone who came across the map in future would assume that the work had actually been realised."
Eight years later, Jacir still hopes to produce stazione on site.
---
---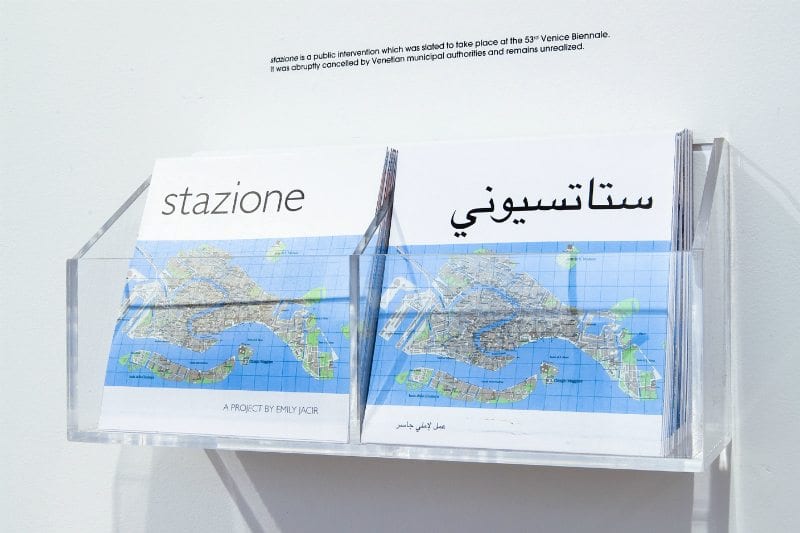 'stazione', 2008-2009, by Emily Jacir. Commissioned for Palestine c/o Venice, Collateral Event of the 53rd International Art Exhibition, La Biennale di Veneza. Courtesy Emily Jacir,
---
Note: The brochures produced were specifically for the Palestine c/o Venice Pavilion.
---
---
Digital Art at Art Dubai 2022
South Asian Art at Art Dubai 2022
Art Dubai Modern: The Soul of Progress
Art Dubai 2022 Contemporary Highlights: Craft and Geometry
African Art at Art Dubai 2022
Art Dubai Digital: 5 Works Not to Miss
Nancy Adajania on Bawwaba