---
---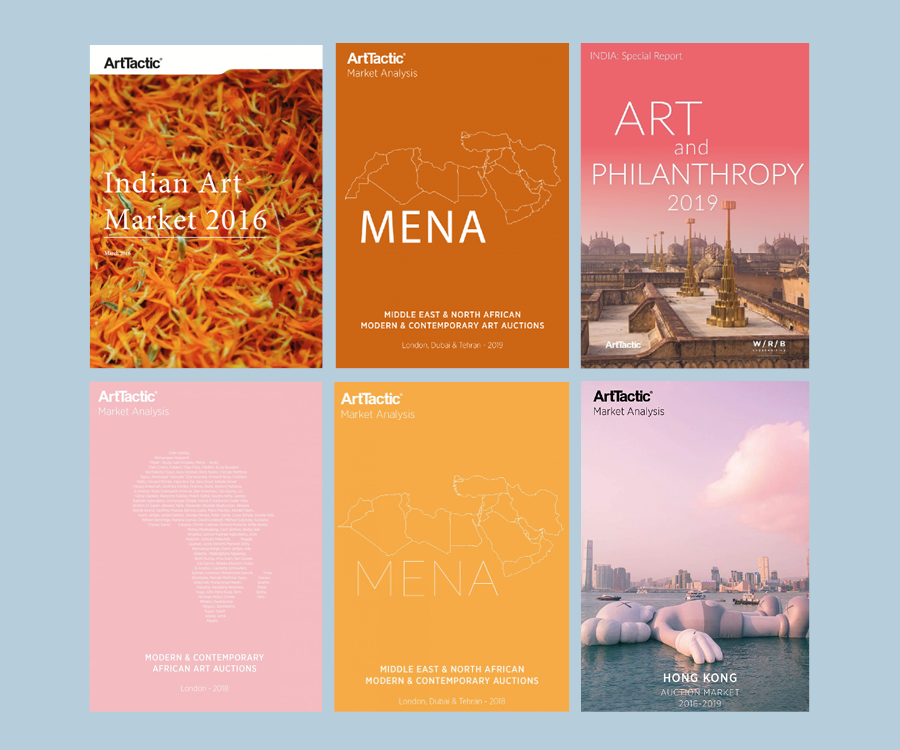 A selection of ArtTactic report covers
---
---
---
Art Dubai is pleased to announce a partnership with industry leaders in art market analysis, ArtTactic. The partnership will see the launch of a report on art philanthropy models across South Asia and discussions around patronage practices with an extended geographical scope across the Middle East, South Asia and Africa.
Anders Petterson, founder of ArtTactic, states: "There is a need to establish a 'forum' for art and philanthropy and its role in our society today and to help shape what role it should play in the future. It is exactly this aspect that we believe the partnership between ArtTactic and Art Dubai can achieve. It's not enough to only disseminate research and findings in a 'report' format – these findings need to be discussed and shared with a wider audience. We believe Art Dubai is an ideal partner for such a forum — a hub between east and west, north and south. Art Dubai has from the outset established itself as the key platform for discussions and critical discourse in the art world through its Global Art Forum initiative."
Chloe Vaitsou, Art Dubai's International Director, states: "We are delighted to be collaborating with ArtTactic to launch a platform exploring philanthropic practices and patronage initiatives in the extended region, in recognition of the impact arts have in building stronger, vital and vibrant communities. Our aim is to enable long-term conversations that foster and leverage philanthropy as a catalyst for positive impact to individuals and communities."
---
There is a need to establish a 'forum' for art and philanthropy and its role in our society today and to help shape what role it should play in the future.

Anders Petterson - Founder and Managing Director of ArtTactic
---
Along this vein, during the 2020 edition of the fair, Art Dubai will host a series of panel discussions centred on philanthropy and patronage, with Petterson as the moderator. The key regional philanthropists and patrons of the art world will be discussing and sharing insightful experiences about the challenges that surround individual and corporate patronage.
Since their launch in 2001, ArtTactic has spearheaded a number of innovative research projects that have become benchmarks in the global art industry. In 2008, their first India Art Market Report was launched at Art Dubai. More recently, ArtTactic embarked on a project to map and explore the intersection between art and philanthropy, which culminated in the inaugural India: Art & Philanthropy Report 2019. The inaugural edition set out to map the evolution in art and philanthropic activities in India over the last 10 years, with a strong focus on what is happening and has happened in the past. The second edition of the report, which will be launched at Art Dubai in 2020, will then place the emphasis on how, i.e. what are the different models that are being used to achieve philanthropic aims in the arts in South Asia. ArtTactic will also be initiating a new survey of art philanthropists in the South Asian region, looking at motivations, purpose and models used to achieve these aims. Comparing the original report from 2008 with this edition allows ArtTactic to highlight how much the South Asian market has evolved, and the vital role not-for-profit initiatives have played in this evolution.
For more information about ArtTactic and to peruse a selection of their reports, visit their website.
---
---
---
---
---
---
---
---
Preferential Hotel Packages and Special Itineraries
Explore the Bawwaba Section, Curated by Emiliano Valdes, a Journey into Artistic Healing
Art Dubai Modern 2024 Presents an Alternative Perspective on Modern Art After 1960
Art Dubai Digital 2024: Behind the Scenes with Curators Auronda Scalera and Alfredo Cramerotti
Introducing the Curators for Art Dubai 2024
Julius Baer's Curator Barbara Staubli on How to Build a Corporate Collection
Inside the Chaupal: Commissioned Performance at Art Dubai 2023
Fresh Painting in Art Dubai Contemporary
Ruinart Presents Matthieu Gafsou Exhibition at Art Dubai
"The Perfect Storm": How Dubai's Cultural and Tech Strategies Are Combining to Create a Global Hub in the Digital Age