---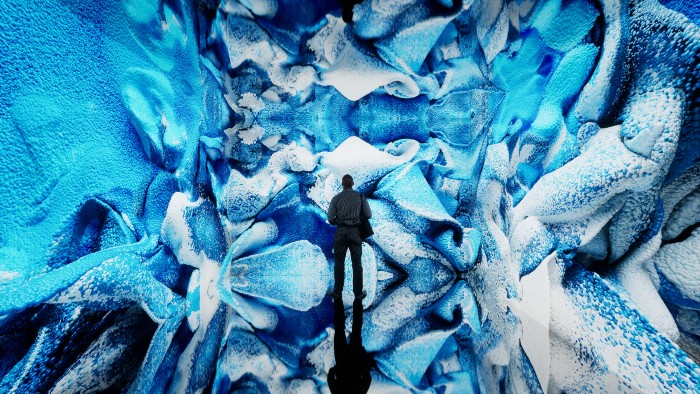 Refik Anadol, Glacier Dreams, 2023, (C) Refik Anadol Studios
---
"Glacier Dreams", Swiss Wealth Manager Julius Baer's commission at Art Dubai 2023 is a groundbreaking new project by the internationally acclaimed new media artist, director and pioneer in aesthetics of data and machine intelligence, Refik Anadol. Inspired by the beauty and fragility of the world's glaciers, , the work will unfold in multiple chapters and locations, making its debut as an immersive room at Art Dubai.
"Glacier Dreams" is an immersive audio-visual installation with an olfactory component. In creating the work, Refik Anadol will process a dataset of visual materials from online and institutional archives along with personally-collected glacier visuals, through machine learning algorithms.
Refik Anadol said: "As an artist creating AI Data Paintings and Sculptures based on nature-themed datasets for almost a decade, I am very excited to be taking my Studio's research to the next level by compiling a comprehensive visual dataset on the glaciers of the world. With this large-scale project and the consequent artwork, we are hoping to not only generate poetic glacier-themed experiences but to also use our existing AI tools to contribute to glacier research and raise awareness about climate change and rising sea levels."
Guests of the 16th edition of Art Dubai will experience "Glacier Dreams" in the Julius Baer Lounge from 3 to 5 March 2023.
"Glacier Dreams" is the first activation of the 'NEXT' initiative, launched by Swiss Wealth Manager Julius Baer in December 2022 designed to foster collaboration between forward-thinking artists and institutions committed to new forms of cultural production at the vanguard of scientific research and technological development. The initiative is supported by Serpentine London.
Julius Baer is a lead sponsor of Art Dubai and has been a partner of the Fair since 2015.
---
---
Julius Baer's curator Barbara Staubli on how to build a corporate collection
Guerlain presents an extraordinary journey through art and fragrance
Boghossian's high jewellery showcase
Inside the Chaupal: commissioned performance at Art Dubai
Fresh Painting in Art Dubai Contemporary
Ruinart presents Matthieu Gafsou exhibition at Art Dubai