---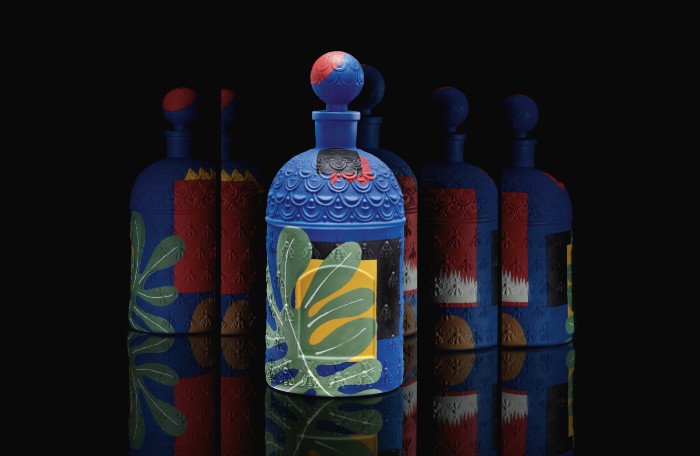 Guerlain x Maison Matisse Bee Bottle
---
Guerlain's signature Bee Bottles were created 170 years ago and since then   became iconic collectible items, reinterpreted and transformed into works of art commissioned by acclaimed artists, from French modernist Yves Klein to several international women photographers in the project "Dear Eugénie". At the heart of the exhibition at Art Dubai, Guerlain proudly presents two spectacular masterpieces: Guerlain X Maison Matisse and Guerlain X Yves Klein Archives.
Guests to Guerlain's exhibition, curated by Ann-Carolie Prazan, Director of Art, Culture and Heritage, will invite guests on a one-to-one immersive journey. Guided by a Guerlain expert, visitors will explore the universe of perfume and art created by Jon One, Tarek Banaoum, Li Hongbo and the Dubai-based jewelry designer Nadine Kanso with her exclusive unveiling of the creation "Rêve D'Amour". Exhibiting locally and regionally, the Bee Bottle by Nadine Kanso draws inspiration from the Arabic alphabet, creating a contemporary exceptional creation with a touch of Middle Eastern flair.
Guerlain will also show "De Nectar at d'Ambroisie" by Constance Valero, an interactive artwork presented in augmented reality, which is symbolized by the dazzling orchestration of bees. The bee, unique symbol of the Maison since 1853 which continues to inspire and guide the Maison's commitment to sustainability, commitment to preserving biodiversity and sustaining innovation.
The commissioned young artist Constance Valero, who enjoys dancing, puts a lot of emphasis on scenography and movement. Starting from the systematic motif of the hive, the wired and modular structure will the space with weaving honeycomb patterns. This exquisite digital Art piece is an example of a tribute to life and tenacity, an ode to the supremacy of organic functioning.
Visit website.
---
---
Introducing the curators for Art Dubai 2024
Julius Baer's curator Barbara Staubli on how to build a corporate collection
Boghossian's high jewellery showcase
Inside the Chaupal: commissioned performance at Art Dubai
Fresh Painting in Art Dubai Contemporary
Ruinart presents Matthieu Gafsou exhibition at Art Dubai