---
---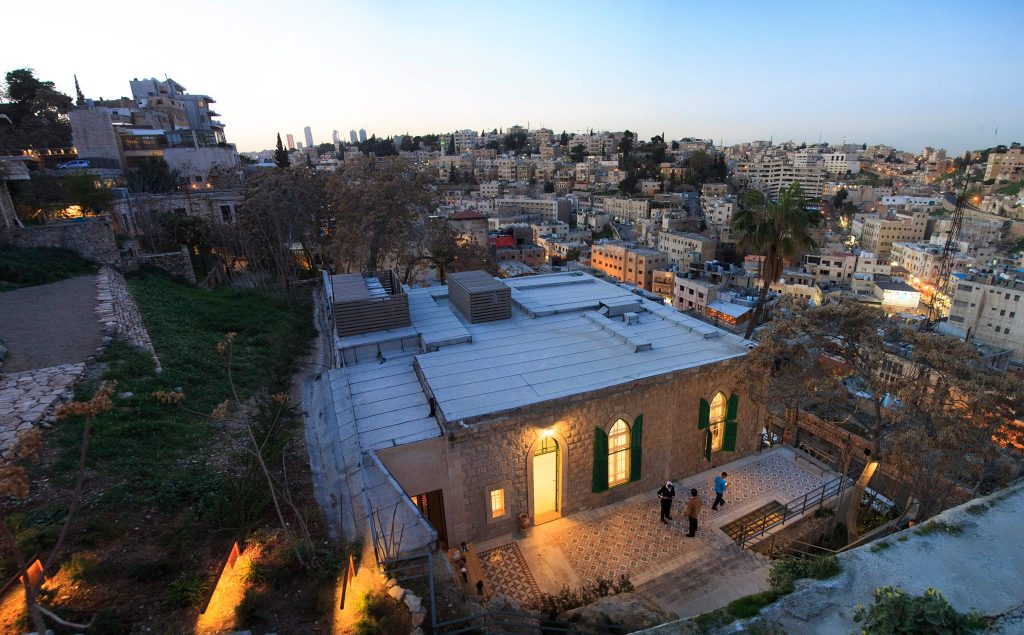 MMAG Foundation, Amman, Jordan
---
---
Selected by an international curatorial jury at the fair, the new MMAG Foundation Bawwaba Commission Award will award one artist from the Bawwaba 2020 section a commission to produce new work at the MMAG Foundation in Amman, Jordan.
Art Dubai is delighted to announce Art Dubai's Bawwaba Commission Award, in partnership with the Mohammad and Mahera Abu Ghazaleh Foundation for Arts and Culture (MMAG Foundation) in Amman, Jordan.
The MMAG Foundation Bawwaba Commission Award at Art Dubai will award one artist from the Bawwaba 2020 section with a commission to produce work, which will then be exhibited at the MMAG Foundation in Amman, Jordan in 2021. The Commission Award will include a residency for the selected artist at the Foundation and public programming around the Commission.
An international curatorial jury comprised of Agustin Perez Rubio (Curator, 11th Berlin Biennale, Berlin), Gabi Ngcobo (Independent Curator & Founder NGO -Nothing Gets Organised, Johannesburg) and Sandra Terdjman (Board Member & Advisor, KADIST, Paris/San Francisco & Founding Director, Council, Paris), together with MMAG Foundation Director Noura Al Khasawneh, will be selecting the awarded artist from the ten participating presentations.
The ten artists participating at Bawwaba 2020, curated by Nancy Adajania, are: Alia Ali (Yemen / Bosnia and Herzegovina), represented by Galerie—Peter—Sillem; Marìa Magdalena Campos‐Pons (Cuba), represented by Galleria Giampaolo Abbondio; Tanya Candiani (Mexico), represented by Vermelho Gallery; Tanya Goel (India), represented by Nature Morte; Ranbir Kaleka (India), represented by Vadehra Gallery; Moslem Khezri (Iran), represented by Saradipour Art Gallery, Youdhisthir Maharjan (Nepal), represented by Blueprint12; Elena Damiani (Peru), represented by Revolver Gallery; Adeela Suleman (Pakistan), represented by Canvas Gallery; and Yohei Yama (Japan / Vietnam), represented by Vin Gallery.
The collaboration will align Art Dubai and the MMAG Foundation's shared vision of spearheading cultural production across the Global South and offering critical support and exposure to artists' practice and development.
---
---
---
---
About the MMAG Foundation
Founded in 2017 by Amman-based patrons Mohammad and Mahera Abu Ghazaleh, the MMAG Foundation strives to contribute to the future of art practice and pedagogy by drawing on historical encounters and contemporary issues alike. Through art, it works to facilitate opportunities to shape responsive approaches to learning, knowledge-making and modes of dialogue. The foundation provides a space for artistic research, production and critical discourse through its exhibition program, educational projects and residency spaces.
In the framework of this year's exhibition program, How to reappear: Through the quivering leaves of independent publishing, curated by Kayfa ta (Ala Younis and Maha Mamoun), is currently on show until April 23, 2020. The foundation is also presently hosting artists OPPA (Saba and Nuha Innab) and Jessika Khazrik as part of the upcoming group exhibition, Spoiled Water Spilled, curated by Inga Lāce and Clelia Coussonnet, in addition to solo shows by Tarik Kiswanson and Michael Rakowitz. Past exhibitions and programs have included the work of researchers and curators Yusef Audeh, Övül Durmuşoğlu, Nadine Fattaleh, Alejandra Labastida and Eliel Jones, among others.
In preparation for its upcoming art school, the foundation runs several pedagogical initiatives for emerging artists in the region. This year, it will be hosting Art Protocol, a research project, platform and forthcoming framework led by Ghalya Saadawi, which examines law and regulation in the contemporary arts, as well as The Clinic, a project by curator Ola El-Khalidi that provides artists a space for listening, guidance and mentorship. In addition, the foundation will continue developing QAYYEM, a curatorial school co-organized with MASS Alexandria and Atelier Kissaria, which has included emerging curators Noor Abed, Areej Al-Huniti, Maxime Gourdon, MF Kalfat, Lila Nazemian and Chahrazad Zahi. Past learning programs also include Acts of Simulation, with artists Yazan El Zubi, Hiba Farhat, Omnia Sabry, Yusef Audeh, Lina Khalid, Dina Mimi, Assem Hendawi, curated by Shuruq Harb.
In conjunction with its programming, MMAG is undergoing a gradual and immersive renovation project that will see the site's buildings and gardens transformed into a permeable, open space, in which architects AAU ANASTAS and Greenwood Barton Architects will oversee the design while transdisciplinary studio Åbäke will reimagine the foundation's visual identity in line with its vision.
---
---
---
---
Digital Art at Art Dubai 2022
South Asian Art at Art Dubai 2022
Art Dubai Modern: The Soul of Progress
Art Dubai 2022 Contemporary Highlights: Craft and Geometry
African Art at Art Dubai 2022
Art Dubai Digital: 5 Works Not to Miss
Nancy Adajania on Bawwaba